Why are Z series mirrorless cameras better for video?
Nikon Team
•

Teknologi og viden
•

23 aug. 2023
•

4 min. læsning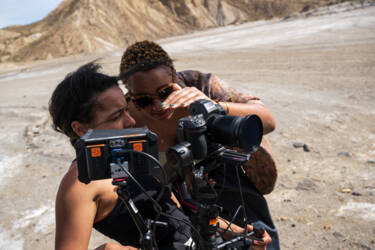 Now, more than ever, content creators are tasked with producing incredible stills and videos, which is why hybrid mirrorless technology is a tantalising solution — designed to cater for the increasingly blurred line between photographer and videographer
Nikon's Z series mirrorless cameras offer much more than just enhanced video specifications: near-silent operation, in-body VR and electronic viewfinders are just some of the many advantages. Whether you're looking to upgrade your DSLR for a more capable video camera or purchasing your first dedicated camera as a smartphone alternative, here's what the Z series has to offer…
What are Nikon's best video specs?
Video-recording capabilities are perhaps the most important consideration when purchasing a camera for video, and the Z series caters for a variety of preferences. Any Z camera will allow you to shoot 4K up to 30p and full HD up to 120p, which is a good baseline for anyone looking to shoot video. However, if you're a serious vlogger or videographer then the Z 30, Z 6II, and Z 8, Z 9 (where you can shoot up to 8K) offer the Z series' best video specs at their respective price points.
Nikon Z 30
The Nikon Z 30 is currently the most affordable Z series camera available and has been designed to appeal to vloggers looking to move from a smartphone to a dedicated camera. It's able to shoot 4K 30p, uncropped, which means it uses the full width of its 20.9 MP sensor. In addition, it boasts Eye-Detection AF for video (not just stills) and doesn't have a 30-minute recording cap.
Nikon Z 6II
The Nikon Z 6II presents a significant step up. In-camera, it can shoot 8-bit 4:2:0 4K 60p (up to 30p uncropped). But when you introduce a compatible ATOMOS external recorder, it can capture 10-bit 4:2:2 4K 30p video via HDMI in N-Log or HLG, and the Z 6 II can also output ProRes RAW and Blackmagic RAW (only with Nikon's RAW Video Output Upgrade).
Nikon Z 8
The Nikon Z 8 boasts numerous space- and time-saving features for video specialists. Shoot 8K or 4K. Shoot 12-bit RAW footage in camera, and work with Nikon's N-RAW files, which are half the size of a ProRes RAW HQ file. You can also create full HD proxy files when shooting either 8.3K N-RAW or 4.1K ProRes RAW HQ. This means you can edit the proxy and then let the full file render while you do something else. And for those who like to create HDR, you can shoot in 10-bit HLG. Learn more here.
Nikon Z 9
The very pinnacle of the Z series' video capabilities can be found within the flagship Nikon Z 9. This mirrorless behemoth touts Nikon's best video specs ever. It can shoot uncropped 8.3K 60p 12-bit RAW internally, via ProRes RAW HQ or Nikon's new N-RAW. It also supports 4K 60p oversampled from 8K, for super-detailed 4K footage, and 4K 120p for smooth slow motion. Add to that the ability to record 10-bit 8K 30p for over two hours* and the Z 9 is Nikon's undisputed king of video.
*At a temperature of 23°C/73.4°F
Advanced autofocus
While manual focus is still considered best practice when shooting video, advancements in autofocus have made it an increasingly viable option for videographers, and many vloggers use it exclusively. Z series cameras boast advanced hybrid-AF systems for smooth and precise operation across nearly the whole frame. The Z series feature Eye-Detection AF for video, which automatically locks on to and tracks the subject's eyes. This is invaluable for vloggers who rely on AF when filming a piece to camera.
Video-friendly lenses
The Z mount is 17% wider than the F mount found on Nikon DSLRs, which makes it better at gathering light. Add to this advancements in lens construction, and you can rely on Z lenses to outperform comparative F-mount optics. But they've also been designed with video in mind. Stepping motors provide quiet AF operation, control rings are near silent and can be customised for use as an aperture ring, and you can expect minimum focus breathing to boot. Whether you're using a premium video-friendly lens such as the S-Line NIKKOR Z 24-70mm f/2.8 S or the more affordable NIKKOR Z DX 16-50mm f/3.5-6.3 VR or NIKKOR Z DX 12-28mm f/3.5-5.6 PZ VR, you can expect great video performance.
In-body Vibration Reduction
Image stabilisation is hugely important — when not using a gimbal — and all current full-frame Z series cameras feature Nikon's 5-axis in-body VR, which works seamlessly with Z-mount and F-mount lenses. If you're using a DX camera without in-body image stabilisation, you needn't worry, as all current DX Z lenses and many FX lenses also include VR. Read more about VR here.
Why remove the mirror?
The lack of a mirror (found in DLSRs) is unsurprisingly one of the biggest benefits when using a mirrorless camera. For starters, it frees up more space and is why mirrorless cameras tend to be smaller and lighter than their DSLR counterparts, making them ideal for run-and-gun videography and vlogging (check out Olivier Wong's run-and-gun videography here for inspo).
Electronic viewfinder
The other major advantage is the presence of an electronic viewfinder (EVF). On a DSLR, the mirror has to be flipped up for the duration of the video-recording session, so as not to obstruct the sensor, which renders the optical viewfinder unusable. None of this is a problem on a mirrorless camera, though. The EVF delivers an ultra-high resolution reading — akin to Live View — directly from the sensor. This is particularly useful if you are working in bright conditions and aren't using a daylight-viewable field monitor.
Join the mirrorless revolution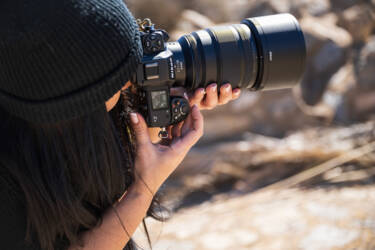 Unlock greater creativity