Capturing the essence of Kenya with Roie Galitz and the Z 9
Roie Galitz
•

Natur og dyreliv
•

12 jun. 2023
•

5 min. læsning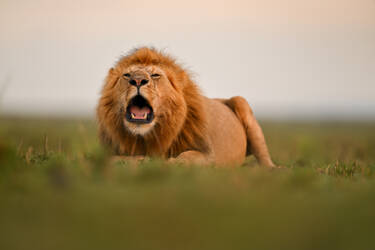 Renowned wildlife photographer Roie Galitz reignited his photography career when he discovered his passion for nature. Now, he says the Nikon Z 9 is revolutionising the way he shoots animals in the wild
"For me, the Nikon Z 9 is like a camera from the future," says Roie Galitz. One of the world's leading wildlife photographers, he shoots from the sub-zero wastelands of the poles to the blistering heat of the African savannah — and everywhere in between. One of the first to test the Nikon Z 9 along with the new NIKKOR Z 400mm f/2.8 TC VR S, Roie — who is Israeli, but based in New York City — took the gear on a trip to Kenya to shoot lions, cheetahs and elephants.
"Extreme heat is way harder to shoot in than extreme cold," he says. "I mean, there's a limit to the amount of clothes you can take off! In extreme cold environments I have amazing gear that protects me very well, and you can always put another layer on, or jump around to stay warm. Heat is something different. I was once inside a hide where it was over 45°C. I definitely prefer the cold!"
Roie has had two starts in photography, as he gave up his career first time around. "I had always wanted to be a photographer and finally I became one, and I hated it! I was doing commercial photography. Taking product shots was super boring and I felt I was just doing it for the money," he says. "So I got a job in finance, but later rediscovered my passion for photography. I started writing about photography, and then teaching it, and discovered what I really wanted to do."
Wildlife proved to be the subject matter that reignited Roie's passion for creating images. His early successes included shooting award-winning images of polar bears in Svalbard, Norway, which he achieved after several trips there. His wildlife photography has been published by National Geographic and the BBC and has won him more than 70 awards.
In the process of reinventing himself as wildlife photographer, Roie's entrepreneurial spirit took hold. "I quit my finance job and then everything just boomed. I founded a photography school that now has more than 30,000 graduates," he says of opening the Galitz School of Photography, in Tel Aviv in 2007. "In 2009, I created a photography magazine, Composition, and then a photo travel company, Phototeva Expeditions."
He adds: "I don't know a single photographer who is just a 'photographer'. To be successful, sure, you have to have creativity and good technical knowledge, but you also need that entrepreneurial spirit. It's like a lot of things — having a talent isn't enough."
Roie now spends his time shooting around the world, often taking groups of interested photographers with him on expeditions organised by his travel company. "I'm a conservationist, a Greenpeace Ambassador and a board member of NGOs. When I travel with a group to Svalbard, or Kamchatka, or Alaska it's as an ambassador for the wild and those with me also become ambassadors for the wild," he says. "And we work while we're there, too. For example, in Svalbard we clean the beaches of plastic — plastic that comes from Mexico! It's sustainable tourism that supports local people and protects the environment." When it comes to carbon footprints and more, as an environmentalist, "Travel is a dilemma," he admits. "But if the outcome is greater than the cost, that is a positive thing."
On a recent trip to Kenya, Roie tested the Nikon Z 9 and the NIKKOR Z 400mm f/2.8 TC VR S to the extremes, egged on by Nikon engineers in Japan. "When I took the Nikon Z 9 and the 400 TC to the Maasai Mara I was in touch with the Nikon engineers all the time. They wanted me to really push the camera and lens, so I threw everything at it," says Roie. "They challenged me to try to get flare and ghosting so I did my best. I'm a very technical photographer but with this lens I just couldn't get any ghosting or flare, even with the sun in the corner of the frame. It's incredible."
As for his subject matter: "I was shooting cheetahs chasing prey and they're going at 100km an hour. I'm in tall grass and need to focus on the eye of the animal. No problem. And this is shooting 400 f/2.8 and using the teleconverter, which shifts the lens immediately to a 560. But this camera is so accurate, so fast."
One of the Nikon Z 9's features that Roie appreciated was that, "There's no blackout on the viewfinder when you shoot. You don't have to think about focusing at all and it's doing 20fps in RAW. You just can't use any other camera after using the Nikon Z 9. It's not evolution, it's revolution. And that lens, well, it's two lenses in one really, a 400 and a 560, and it's incredible."
Roie believes that using the Nikon Z 9 will even change the content of his work. "Animals never read the script, so you have to be ready. A camera like this lets me be more creative, because there are fewer technical things I have to think about. Not even the battery, since I shot 10,000 photos on one charge."
For Roie, being ready means compiling lists — and lots of them. "I have a list of my photography gear and a list for my shots, lists of other things I'll need to get those shots, what I need in stills and what in video etc, and I try to visualise it and work in advance on that. But, like I said, the animals don't bother with the script." By way of example from his recent Kenya trip, he says: "I know I need a lion in sunrise with backlight, and I want something in the foreground and I want to shoot from a really low angle. So I hire a vehicle without a door so I can hold the camera low. And when I'm driving in front of the lion, I'm looking for a small bush in the foreground, which will be out of focus. So I have that, and I have the lion and I have the background with this rising sun. But then right when I've finally got the shot, the lion is facing the sun instead of me!" Even the Nikon Z 9 can't solve that one.
Discover more with the Nikon Z 9