DSLR vs mirrorless cameras: Why go mirrorless?
Nikon Team
•

Teknologi og viden
•

15 jun. 2023
•

5 min. læsning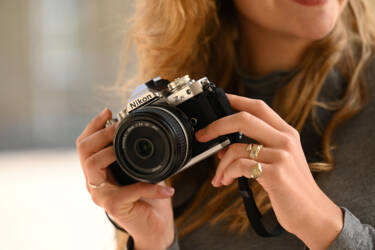 Stunning image quality, cutting-edge interchangeable lenses, lighting-fast burst speeds, advanced AF system — this is the mirrorless camera revolution
Whether you're thinking of starting out in photography, moving up to a 'real' camera from a smartphone or changing from DSLR to mirrorless technology, there are a host of great reasons to make the move to mirrorless. Nikon Z-series mirrorless cameras are generally smaller and lighter than their DSLR counterparts and their abilities in both stills and video far exceed the limitations of smartphones.
The Z mirrorless system boasts near-silent operation, lightning-fast burst speeds, hybrid autofocus, electronic viewfinders, the latest EXPEED processors and all of the many benefits that accompany the coveted Z mount and its ever-increasing roster of top-quality lenses.
If you're a DSLR owner who's considering converting to mirrorless, read on to find out how the Z series has redefined the future of Nikon imaging and why your F-mount lens collection won't be made redundant.
What is a mirrorless camera?
Mirrorless cameras are so called because they don't contain the mirror found within single-lens reflex cameras. The mirror in a DSLR sits in front of the sensor and reflects the light that passes through the lens's aperture, up and into a pentaprism inside an optical viewfinder. To avoid obstructing the sensor when the shutter opens, the mirror has to physically flip up and out of the way first.
From the retro-themed Z fc to the high-resolution imaging power of the Z 6II, Z 7II or Z 9 and the vlogger-focused Z 30, Z-series mirrorless cameras are primed to suit a variety of creative needs. Smartphone content creators looking to invest in a dedicated image-making device can expect a huge jump in image quality, enjoy the versatility of cutting-edge interchangeable lenses and effortlessly share their work thanks to smartphone connectivity.
What makes mirrorless cameras better?
Removing the mirror has a multitude of benefits. It frees up a good amount of space — allowing for smaller and lighter cameras — while also eradicating the possibility of camera shake due to internal vibrations caused by the moving mirror. And less movement means less noise.
That's not all. A moving mirror mechanism can impede continuous shooting speeds, and the flagship mirrorless Z 9 takes this a step further by also removing the mechanical shutter and relying solely on an electronic shutter. But perhaps the most notable innovation when you use any Z-series camera for the first time — apart from the video-centric Z 30 — is the presence of an electronic viewfinder (EVF).
The benefits of an EVF
Many photographers and video creators these days use the rear screen to check on their images. But if you prefer to use the eyepiece, the Z-series EVFs deliver super-bright, ultra-high-resolution readings directly from the sensor. This means you can instantly see how your camera settings will affect the exposure of your image, view overlays such as focus peaking or the histogram, access menus and enter Playback, all without removing your eye from the viewfinder. No mirror and no optical viewfinder also mean videographers no longer have to rely on Live View, since video footage can be framed and recorded while looking through the EVF (or on the rear screen in the case of the Z 30).
Why choose a Nikon Z-series camera?
Nikon's mirrorless system is built around the coveted Z-mount. It was designed to be the largest full-frame mount on the market and is 17% wider and 65% slimmer than Nikon's F-mount. This means it's more adept at light gathering, while simultaneously championing the design of smaller and lighter lenses and cameras, not to mention its ability to accommodate apertures as wide as f/0.95.
With a new lens mount comes new lenses, and Nikon's ever-growing roster of Z-mount optics is consistently redefining expectations when it comes to size, features, image quality and sharpness. But making the switch to Z-mount doesn't render those great F-mount lens collections redundant. The Mount Adapter FTZ II makes roughly 360 F-mount lenses compatible with Z cameras without any loss in quality. In fact, the in-body 5-axis Vibration Reduction present in all current full-frame Z-series cameras* will help stabilise F-mount lenses without vibration reduction technology (VR) and increase the effectiveness of those that have it.
FX vs DX Z-series cameras
Just like Nikon DSLRs, some Z-series cameras such as the Z 5 and Z 7II have FX-format (full-frame) sensors, while others like the Z 50 and Z fc are DX. The former has a 36 x 24mm sensor, while the latter uses a smaller 24 x 16mm sensor. FX cameras are generally favoured by professional photographers and serious enthusiasts. They have higher resolution sensors, in-body VR and boast the ability to produce shallower depths of field. You can generally expect better low-light capabilities, too, and faster burst shooting, depending on the model. DX cameras are more affordable, smaller, lighter and offer very respectable burst shooting speeds across the board.
The final consideration is lens compatibility. Both DX and FX Z lenses are available and can be used across both formats. FX cameras feature a DX crop mode to accommodate the smaller image circle created by a DX lens, while DX sensors inherently 'crop' into the larger image circle created by FX lenses. Since an FX lens's reach is essentially increased when attached to a DX camera, you can get closer to subjects with shorter and often more affordable lenses. A DX camera's tighter angle of view can be explained in relation to the industry standard full-frame (or 35mm) sensor by its 1.5x crop factor. Simply multiply the focal length(s) of a lens by 1.5 to calculate the 35mm-equivalent view.
There's a mirrorless camera for everyone in the Nikon Z range, whatever you shoot and no matter how you shoot it, in stills and video. And with the ever-growing range of Z-mount lenses and the ability to use classic F-mount lenses too, you can unleash your creativity like never before.
*As of time of publication
Discover mirrorless
Teknologi og viden
•

30 maj 2023
•

Nikon Team
Seamlessly pair your phone to your Nikon camera with the SnapBridge app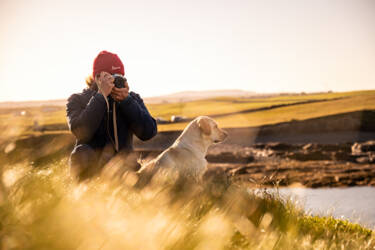 Unlock greater creativity