What lenses do I need as a portrait photographer? Kitbag essentials for all levels
Nikon Team
•

Teknologi og viden
•

08 sep. 2023
•

9 min. læsning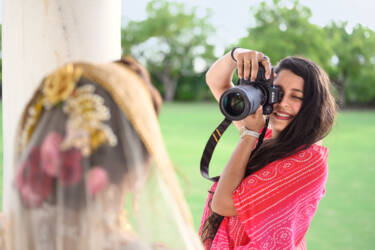 Choosing lenses is always a tough gig when you're spoilt for choice. In this guide, we unpick focal length, aperture and the best in glass for your budget, whether you're a beginner, hobbyists or professional
Lens choice can make or break a photo — spelling the difference between images that feel flat and those that pop with life. But with such a wide range of NIKKOR lenses on offer, choosing the right one can be tricky: fixed-focus prime or variable zoom? f/1.4 aperture, or f/2.8? Whether you're starting out, or looking to increase your collection, getting the right lens is key to nailing your creative vision. Read on for our guide to choosing the best NIKKOR lenses for your portrait photography.
Pick your focal length
Camera lenses are usually described by their aperture or f-number, and their focal length. The former is the maximum size of the hole where light gets through to the sensor, (the lower the number, the bigger the hole), the latter is measured in millimetres. Focal length isn't the actual length of your lens, it's the distance between where light rays converge in the lens to form a sharp image on the sensor.
Lenses with longer focal length tend to have a shallower depth of field, meaning you can focus on a particular object far away, whereas, shorter lenses have a deeper depth of field, which means you can get more objects in focus throughout the image. Then there's also the fact that relative focal length on a DX camera (Z fc, Z 30, Z 50) is different to a full-frame FX camera (Z 5, Z 6II, Z 9 for example), as the sensor on a DX camera is 1.5 times smaller than the FX sensor. A 50mm lens on a DX camera, for instance, will get the angle of view and magnification similar to a 75mm lens on a FX camera (because 50 x 1.5 = 75). However, you can use lenses on both DX and FX cameras.
Want a greater understanding about focal length? Read our guide here.
Will it be prime or zoom?
Now, you know about focal length, let's talk about zoom and prime lenses. Zoom lenses, which have a variable focal length, allow you to switch between different ranges without constantly changing the lens you use. They're often referred to as 'all-in-one lenses', and their strength lies in giving you maximum versatility without weighing you down. Prime lenses, which have a fixed focal length, have one major advantage: their wider apertures make them incredibly good at low-light shooting and provide greater separation between a sharp subject and blurry background.
The next thing to consider is how you want your portrait to feel. Portraits don't have to be close-ups: you can experiment with medium shots, cowboy shots (head-to-thigh shots), or wide shots (that's where a wide-angle lens comes in handy). There are no one-size-fits-all rules to shooting the perfect portrait, so don't let anyone tell you wide-angle lenses are off-limits.
Portraits take careful composition. On one hand, you don't want anything in shot that might distract the eye. On the other hand, you need to keep enough distance between you and your subject that things don't get distorted. As ever, practice makes perfect. Your equipment does half the work but finding that sweet spot takes experience.
Know your aperture
Next up is choosing your aperture. There are two types of lens aperture: variable and fixed. With variable aperture lenses like the NIKKOR Z DX 16-50mm f/3.5-6.3 VR, the maximum aperture changes depending on the focal length: as you zoom closer to 50mm, the diaphragm closes to let in less light. Not all zooms have variable aperture. Lenses such as the NIKKOR Z 28-75mm f/2.8 have a fixed maximum aperture.
Prime lenses, such as the NIKKOR Z DX 24mm f/1.7 or NIKKOR Z 35mm f/1.8 S, have fixed maximum apertures. If your goal is to boost brightness, prime lenses let you work with incredibly wide maximum apertures – the NIKKOR Z 58mm f/0.95 S Noct allows an incredible f/0.95 aperture.
What is minimum focus distance?
Each lens has a minimum focus distance from which it can shoot a subject and it varies by lens, and even, in zoom lenses, by focal length. If you get closer to the subject than this distance, you will not be able to focus.
Budget-friendly DX lenses
For incredible bokeh at a fantastic price, start with the first ever Z mount prime lens for the Nikon DX series. This 24mm lens, equivalent of 36mm in a full-frame camera, has a 'classic' focal length, providing great versatility, from landscapes to close-ups. Plus, the minimum focus distance of 0.18m means you won't have to stand up or back away to take the perfect shot. With a weight of 125g, it's the ultimate companion for travelling, too.
For a deep dive into its specs, click here, or read our tips on how to make the most out of the 24mm f/1.7 lens here.
A kit lens option for the Nikon DX cameras, the NIKKOR Z DX 16-50mm f/3.5-6.3 VR is great for everything from interiors to cityscapes and portraits. This fast-focusing wide-angle zoom has a minimum focus distance of 0.2m, meaning you get close to your subject, perfect for close-up portraiture, and, naturally, allows you to shoot head-to-thigh shots and wide shots with ease.
This DX ultra-wide-angle power zoom allows you to zoom smoothly and steadily without touching the lens – ideal for shooting your own vlogs or using a gimbal to capture video. With built in VR, this lens will keep your subjects looking sharp whenever, and wherever, you shoot. Whether stills or video, this lens is perfect for getting creative with an ultra-wide portrait shoot. Want some ideas? Start here.
A kit lens option with the Z fc and Z 50, the NIKKOR Z DX 50-250mm f/4.5-6.3 VR is a great all-round lens to shoot action and wildlife using the 250mm focal length, and portraits at lower focal lengths due to its minimum focus distance of just 0.5m. This is a perfect first telephoto zoom with great versatility and its 50mm focal length is very popular for headshots.
For affordable FX lenses try the super-sharp, portable NIKKOR Z 24-50mm f/4-6.3 zoom or the NIKKOR Z 40mm f/2 prime prime for wide, bright aperture and beautiful bokeh.
If you buy one lens: The NIKKOR Z DX 24mm f/1.7 for DX cameras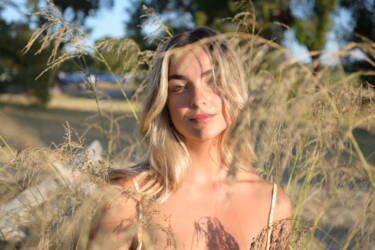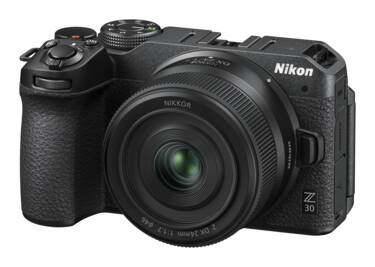 NIKKOR Z DX 24mm f/1.7 on the Nikon Z 30
For next steps, hobbyists and advancing
The NIKKOR Z 70-180mm f/2.8 telephoto zoom allows you to achieve great, smooth bokeh, get closer to your subjects and is ideal for videographers who don't want to be weighed down by a heavy zoom (its weight is a mere 795g). The variable focal length allows you the creativity to pursue all types of portraits shots, from full-body to close-ups.
This affordable 35mm prime enables you to capture more light across the entire frame, with stills and videos razor-sharp and bursting with colour. The f/1.8 aperture allows for a smooth creamy bokeh, offering the perfect background for a portrait. The 35mm focal length is popular for both photographers and videography because of its natural framing and balance between focal point and background separate. While 50mm and 85mm are the perfect primes for closer portraits, the 35mm is a versatile all-round lens which should be in all kitbags.
Pin-sharp detail and elaborate bokeh allow for your best creativity yet. The NIKKOR Z 50mm f/1.8 S is a must have for advancing and professional photographers, and the f/1.2 maximum aperture allows for all sort of creative shooting. The 'nifty fifty' 50mm is the easiest focal length to frame your subject as it's the equivalent to 'what our eyes see,' and allows a shallow depth of field, creating that all-pleasing bokeh. All portrait photographers should have a 50mm, especially wedding photographers.
If you buy one lens: The NIKKOR Z 50mm f/1.8 S
For professionals
As with the NIKKOR Z 50mm f/1.8 S, this 'nifty fifty' 50mm focal length prime offers superb bokeh and is razor-sharp, but the f/1.2 has the two-stop advantage over the f/1.8, meaning it'll focus even faster thanks to the greater amount of light it can collect. The 50mm will allow for that all-pleasing framing of your subject, whether that's in the studio, in the street or indoors, especially under low-light.
The 85mm prime is a portrait photographer's dream. No professional portrait photographer, especially a wedding photographer, will go without an 85mm prime. Fast and with thin depth of field, it provides that creamy, close-up bokeh – perfect for when you need to remove the distracting things in the background. Can't decide which f-stop to go for? The f/1.2 allows even more light, fantastic for low-light scenarios and when you want to delicately balance softness and sharpness for each individual shot.
Designed with versatility in mind, if you need to easily switch from close-up headshots to wide-angle reportage, the NIKKOR Z 70-200mm f/2.8 S could be the right lens for you. With its magical f/2.8, 9-blade aperture, focusing is smooth, fast and razor-sharp. Minimum focus distance is just 0.5m at the wide end of the zoom range, and at 1m at the telephoto end, so it's ready to go when you are.
If you buy one lens: The NIKKOR Z 85mm f/1.8 S
Break some rules
Anything goes when it comes to portrait photography, so get creative and feel free to use special lenses.
If you're aiming to bring out a particular detail in your model's portrait, look to macro lenses like the NIKKOR Z MC 50mm f/2.8 or the NIKKOR Z MC 105mm f/2.8 VR S for ultra-sharp, super high-definition close-ups.
Want to experiment? Try a fisheye: the AF-S Fisheye NIKKOR 8-15mm f/3.5-4.5E ED and the AF DX Fisheye NIKKOR 10.5mm f/2.8G ED both have a 180-degree field of vision, plus wide depth of field and very short focal lengths. All of which adds up to surprising results and lenses that are addictively fun to play with.
Using F-mount lenses
If you're moving from a Nikon F-mount DSLR and still want to use your collection of F-mount glass, you can do so with the Nikon Mount Adapter FTZ II. This allows you to attach approximately 360 F-mount lenses to your Z series camera, with no loss in image quality.
Tried and Tested
•

06 sep. 2023
•

Ricci Chera
NIKKOR Z 180-600mm f/5.6-6.3 VR: "A real go-to lens for wildlife enthusiasts"