The Nikon Z 9 — a videographer's dream
Pep Bonet
•

Videooptagelse
•

16 jun. 2023
•

4 min. læsning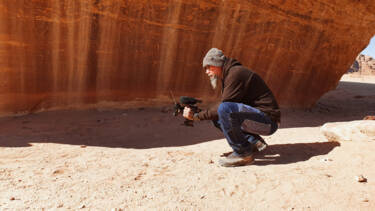 Photographer, filmmaker and co-founder of NOOR Images Pep Bonet on shooting a top-secret desert location with the Nikon Z 9
When it came to challenging the video capabilities of the Nikon Z 9, Pep Bonet was an obvious choice. As a photographer, filmmaker and founder of photo agency NOOR, who has worked in conflict zones around the world for two decades and spent eight years with heavy metal legends Motorhead, Pep and his equipment always have to be ready for anything.
We caught up with Pep at a secret desert location, where he was shooting behind the scenes on a new action-packed reality series for HBO Max, to talk about how he started documentary making, his style of shooting and, of course, the Nikon Z 9.
The Nikon Z 9 is the perfect tool for video, with the ability to shoot RAW 8K at up to 60fps and 4k up to 120fps, all with full AF/AE and eye detection while filming. The flexible codec selection allows you to record with H.265, 10-bit Apple ProRes 422 HQ, ProRes RAW HQ and Nikon's new N-RAW format, which keeps files at a manageable size. And as a Nikon Ambassador, Pep had a lot of input into the development of the available features.
"I tested the Z 7II for Nikon and I loved it and gave a lot of feedback to Nikon, especially in terms of filmmaking. And when I received the Nikon Z 9, everything I'd written down — bam — it was all there," he says. "I was so amazed when I got it: the size of the camera, the battery life. When I work in cinema and television I use lots of different cameras because that's what the production demands — I don't get to choose — and these are big cameras. They're heavy, they have manual focus, they don't have image stabilisation.
"So when I took the Nikon Z 9 to work with HBO Max it was like, 'Wow, this camera is so light, the image stabilisation is amazing.' And as for the battery life, I got Nikon to send me three batteries because I thought I would need them and I shot all day on one — it was mind-blowing! It's the perfect companion for me and the best camera I've had."
Originally a professional windsurfer, Pep started in photography after seeing an Ed van der Elsken exhibition while on holiday in Amsterdam. "I was totally fascinated by it," says Pep. "I did a week-long basic photography course, then a day on how to develop and print — this was back in the days before digital — and I really started to look at a lot of war photography. I made a couple of trips to Cuba as a street photographer in 1999 and 2000 and then, with the help of the charity War Child, I went to Sierra Leone to cover the conflict there. I had no idea what I was getting into. I stayed in Freetown for about eight weeks and that was the first long-term project I did. From then on I covered injustice across the world, from Somalia to Chad, Honduras and South Africa."
As Pep's stories were published around the world and won many awards, a new camera set him on yet another new path. "I got a Nikon D90 and I put it in black and white, hit the record button and went, 'OK, so now I'm a filmmaker!'" he says. "It's a different world — moving the camera around, composition, how you tell the story. With photography, you can go somewhere and not have a lot of idea about what you are doing, but if you spend enough time capturing what is in front of you, you can create a beautiful story. If you just turn up and start shooting film, that's going to be hard. So there is a lot more planning and pre-production. You need to think about the story much more in advance. Plus filmmaking is all about teamwork. As a photographer I, like many, work on my own. I turn up somewhere, find my stories, take my pictures, edit them, write my captions. With film, I work with producers, sound engineers, editors, and you need to explain to all of those people what it is you want to do for the result to be successful."
Not that Pep has abandoned stills photography. "With a fantastic camera like the Nikon Z 9 I can do both easily but I have to be disciplined about when to do what," he says. "It can be complicated to do both at the same time, especially when you are shooting video and have the camera in a rig, with a microphone and a handle and so on, so I plan days when I shoot video and days when I shoot stills."
Discover more with the Nikon Z 9
Natur og dyreliv
•

12 jun. 2023
•

Roie Galitz
Capturing the essence of Kenya with Roie Galitz and the Z 9
Sport og action
•

17 jun. 2023
•

Corinne Dubreuil
Capturing raw sporting emotion with the Nikon Z 9