These four methods will elevate your landscape photography
Nikon Team
•

Rejser og landskab
•

17 maj 2023
•

4 min. læsning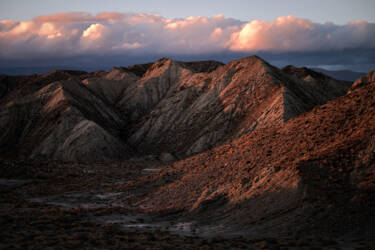 Recently returned from Spain shooting Nikon's limited series The Movement, these four creators, armed with the new Nikon Z 8, reveal how to level up your landscape photography
Taking a wonderful shot of a landscape can be incredibly rewarding. In the right light, at the right time from the right spot, a shot captures a moment of magic. Whether it's a park on your doorstep or the other side of the world on the trip of a lifetime, armed with a great camera, a razor-sharp lens and some expert advice, you can up your landscape game and create memories that will last forever.
We talked to four of our Nikon family of creators about landscapes, how they integrate landscape into their work, and how they look for what to shoot — and what not to shoot — to give you a head start.
Seek inspiration from the Masters
Esther Horvath's photography mostly takes her to polar regions, where she documents the work of climate scientists in their surroundings of ice, snow, glaciers, and the ocean. Before going on a shoot, Esther always prepares and plans what she wants the landscape to look like, taking inspiration from the old masters.
"I always think about what is going to be my visual language, what is going to be the light, and how I am going to use that type of light," she says. "One of the things I always do is to go to museums and look at Old Masters. My main inspiration is Rembrandt because I love how he used light. When I went on my longest expedition for three and a half months to the Arctic Ocean on an icebreaker, I took a postcard with me of one of his paintings. That painting was my inspiration for the entire time."
Travel light and always look around
Alpine action photographer Aurelie Gonin spends most of her time in the mountains where landscape is an integral part of her work. "My job is taking pictures of exceptional people in a beautiful environment," says Aurelie. "The important thing is to keep looking all the time. I'm always looking and thinking 'What would be a good scene to shoot?' and I always have my camera with me. When you have a camera, you must open your eyes and you have to be in the moment."
Aurelie recommends travelling light so you can always be ready for the right moment to shoot a landscape.
"I like to keep my gear as light as I can. When you have to choose one lens, choose a zoom. With the Nikon Z 8 I used one lens, the NIKKOR 24-120mm f/4 S zoom because that goes from wide to telephoto. I often don't need a big aperture because in the snow the problem is too much light rather than not enough!"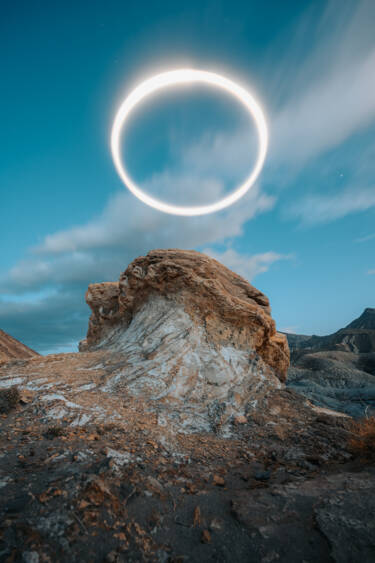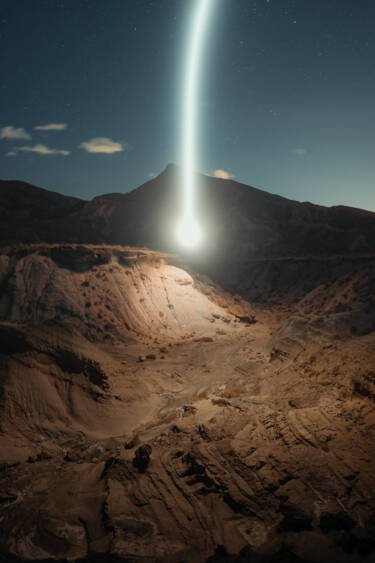 Shot by Wonguy with a Nikon Z 8
Go portrait for landscape
Social media sensation Olivier Wong, or Wonguy to his followers, started in photography taking pictures of Paris. Now he travels all over the world, shooting stills and video in a unique style, using gimbals and drones to create amazing effects. And as a social media influencer turning his camera on its side comes naturally. Try it and you'll find yourself looking differently at landscapes and composition.
Planning ahead for a location shoot is crucial to Olivier's work. "I'm a big fan of light and shadow photography so often I'm shooting at sunrise or sunset. I have apps that can tell me exactly where and when the sun will rise and set at a certain place, so I can plan the shots in advance. Then I always check the weather – just to make sure.
"With the Z 8 I was blown away by the low light capabilities. It was really beautiful straight out of the camera, and the Starlight View feature [which brightens the display without affecting the exposure] really helped me with composition."
Try using natural props
Fine art and wedding photographer Frøydis Geithus often uses organic props when shooting outside. Don't be afraid to move things like driftwood on a beach or a dead branch on a hillside to a better position to create a point of interest in the foreground of your landscape composition.
"I love natural props," says Frøydis. "Whether or not you have too many or not enough will be up to you – you'll know when you know! Composition is everything. People are scrolling through thousands of photographs, and you have to try to create something of impact that makes people stop. Impact is very important."
Discover the Z 8
Mennesker og begivenheder
•

10 maj 2023
•

Frøydis Geithus
Finding props in nature: Frøydis Geithus and the Z 8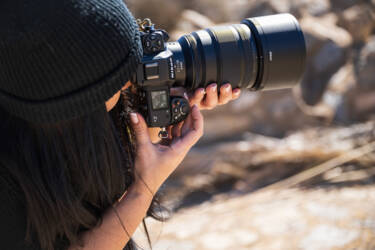 Unlock greater creativity