The Nikon Z 8 — made for video
Nikon Team
•

Teknologi og viden
•

10 maj 2023
•

5 min. læsning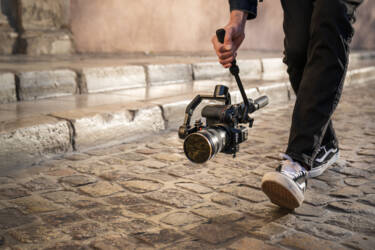 Fast, agile and incredibly powerful, the new Z 8 changes the game for videographers
The new Nikon Z 8 is a video-maker's dream camera. With its incredible specs and lightweight agility it enables you to shoot pro-quality with limited extra kit, meaning you can film anywhere, anytime, with just a few essentials in your bag.
Get rid of the cables, cages and external monitors — all you need is the Nikon Z 8, a tablet and an HDMI transmitter and you can be up and running in five minutes.
If you want to add a gimbal to the mix, cable-less shooting means those 360 rolls are easy to execute, and with the total weight of camera and gimbal being 13-14% less than with direct competitor cameras, you'll be shooting comfortably for longer.
The Nikon Z 8 has a host of video-specific features that take the challenge to the competition. A red REC frame indicator, video settings info display, frame size and rate display on the top control panel, the ability to zoom in the display during shooting and a waveform monitor are just a few. The electronic vibration reduction also compensates for trapezoidal distortion, while lens control minimises focus breathing without the need to crop into the image on the sensor. Using Nikon Z mount lenses also means no variance in white level, offering great efficiency when it comes to grading footage.
The Nikon Z 8 also boasts numerous space-saving, time-saving features for video specialists. Shoot 8K or 4K. Shoot 12-bit RAW footage in camera, and work with Nikon's N-RAW files, which are half the size of a ProRes RAW HQ file. You can also create full HD proxy files when shooting either 8.3K N-RAW or 4.1K ProRes RAW HQ. This means you can edit the proxy and then let the full file render while you do something else. And for those who like to create HDR, you can shoot in 10-bit HLG.
Incredible autofocus has precision tracking for people, dogs, cats, birds, cars, motorcycles, bicycles, trains, and planes. Eye tracking means the eyes stay in focus even when a subject (human or animal) is moving quickly or upside down. And faces will stay sharp even under strong backlighting and in low light, with subject detection and AF working down to -9 EV.
The Nikon Z 8 is compatible with a wide range of accessories to boost your video capability. Gimbals, cages, pan bars and shoulder rigs are all readily available. External mics from brands like Rode, Sennheiser and Deity are compatible and an HDMI transmitter such as the Hollyland Mars 400s will set you cable-free for 'run and gun' shooting. If you're shooting with the camera on a gimbal, in a cage or maybe a shoulder rig, the means you can have practically all the camera's functions within easy reach and without having to touch the body or lens in the middle of a shot.
Light, agile, packed with innovation and ready to shoot when you are, the Nikon Z 8 sets new standards in its class for video. The next time you say 'action', make sure you're looking through its viewfinder.
Dive into the Z 8
Sport og action
•

10 maj 2023
•

Aurelie Gonin
Shooting mountain sports with Aurelie Gonin and the lightweight Z 8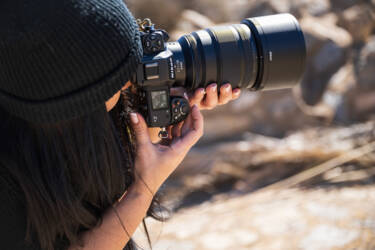 Unlock greater creativity