The Nikon DX mirrorless range. Better images start here
Nikon Team
•

Teknologi og viden
•

26 mar. 2023
•

4 min. læsning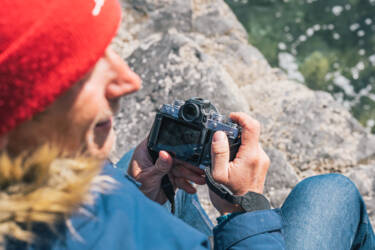 Unlock your creativity with the Nikon DX mirrorless range — fast, powerful, light with greater sharpness and smoothness than any smartphone
Nikon's DX range of mirrorless cameras is the perfect starting point for your photography journey. DX cameras have a slightly smaller sensor than Nikon's pro-level FX cameras, but they are still incredibly powerful, and that all-important light-gathering sensor is many times bigger than the one in your smartphone. A choice of starter kits means you'll be up and shooting straight out of the box and, with Nikon's legendary image quality and innovative technology, you can be sure that your videos and pictures will look professional and on point.
Three mirrorless DX cameras are available, and all are compatible with the full range of Nikon Z mount lenses for whatever, and however, you want to shoot. You can also use the FTZ II adapter to attach more than 100 Nikon F mount lenses.
Nikon mirrorless DX cameras are light and small, so they're perfect for carrying with you wherever you go. They're a great way to escape the limitations of a smartphone, letting you take your photos and videos to the next level.
All DX cameras are available as either body alone or as great-value kits, with either one or two lenses to get you started straight away and vlogging kits for moviemakers on the go.
Meet the family: The Nikon Z 30
A vlogger's delight
A content creator's dream, the Nikon Z 30 mirrorless DX camera will take you way beyond the smartphone and allow your creativity to reach its full potential. Designed with content creation in mind, the Nikon Z 30 lets you record full 4K UHD movies, timelapse and smooth slow motion using the full width of the sensor. That big sensor and ultra-wide Nikon Z mount allow in so much more light than a smartphone, and more light means more sharp detail, day or night. You can record up to 125 minutes (approx.) of uninterrupted video, while Bluetooth, WiFi and Nikon's SnapBridge app make uploading your content fast and easy. There's also a built-in microphone for crystal-clear sound — or you can attach an external mic — and the audio menu means you have options for voice recording, ambient noise and wind noise reduction.
The Nikon Z 30 is no slouch in the stills department, either, with that famous Nikon image quality and a host of features and functions that will make your social feeds stand out.
Best for: content creators who want incredible quality in stills and video that a smartphone just can't match.
The Nikon Z 50
Ready when you are
Fast, powerful and easy to use, the Nikon Z 50 mirrorless DX camera lets you create stunning stills and amazing video in any light, wherever you are and whenever the mood strikes.
This light and agile but strong and robust camera is built to be a constant companion, always ready to shoot. Fast, silky smooth autofocus means super-sharp images in stills or video. Incredible light sensitivity and the large Nikon Z mount and DX sensor make shooting in any light situation problem free. So, whether you're shooting in the street at night or catching some wildlife at dusk, the Nikon Z 50 will never disappoint — and a silent photography mode means you can shoot away without disturbing the moment. Buttons to control the functions are all within easy reach and the easy-to-use menu system means you'll be a master of the camera in no time.
The electronic viewfinder (EVF) can show you either a natural image or, with the settings you have applied and with 20 adjustable in-camera effects, you can make your images truly yours.
Best for: ditching your phone camera and taking your photography and video to the next level.
The Nikon Z fc
Retro style meets innovative tech
Inspired by the legendary Nikon FM2 SLR film camera, the Nikon Z fc is a stylish retro camera that hides a wealth of cutting-edge technology. The re-created clicking dials, viewfinder and classic engraved Nikon logo scream 1980s chic. The inside, however, is pure 21st century. Record incredible 4K video, shoot in low light and take super-sharp portraits with eye-detection autofocus. Perfect for nights out and travelling. The variangle touchscreen monitor makes filming and vlogging a joy, and turning the monitor to the front automatically starts self-portrait mode. Your social feeds will thank you.
Plus, with a choice of body colours available, you can really make a statement with the Nikon Z fc in your hands.
Best for: those who want retro style without compromising on up-to-the-minute tech.
For all the latest deals on Nikon DX mirrorless cameras, lenses and accessories click here. For more information about Nikon's SnapBridge app that lets you use your phone to control your camera and upload your content wirelessly and easily click here.
Kick-start your photography journey
Teknologi og viden
•

15 jun. 2023
•

Nikon Team
DSLR vs mirrorless cameras: Why go mirrorless?