The new NIKKOR Z 135mm f/1.8 S Plena
Nikon Team
•

Anatomy of a Lens
•

28 sep. 2023
•

2 min. læsning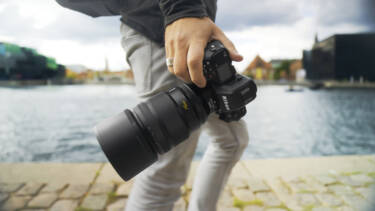 With incredible bokeh, amazing sharpness and superfast autofocus, the NIKKOR Z 135mm f/1.8 S Plena is designed to be a lens that will be lauded for years to come, pushing the boundaries of creativity in image-making
Taking bokeh to new limits
Beautifully soft, near circular bokeh with minimal vignetting and colour fringing has been made possible by Nikon engineers with the introduction of the Plena. This is a modern legend of a lens that creates new levels of bokeh, combined with ultimate sharpness of the subject, through the use of 16 lens elements in 14 groups. Bokeh is consistent from the centre to the edge of the frame, on either side of the focal plane, giving you the ability to create incredible, dream-like images.
Only possible with the Nikon Z mount
The NIKKOR Z 135mm f/1.8 S Plena takes the potential of the Nikon Z mount to the limit. The wide Z mount was designed to reduce light fall-off and control overall image quality to the edge of the frame and improve and elevate bokeh, with minimal unnatural colouring. The combination of the Z mount and the Plena lens is Nikon's ultimate expression of bokeh.
A new legend in lenses
The NIKKOR Z 135mm f/1.8 S Plena is only the second Z mount lens to be given a name, after the NIKKOR Z 58mm f/0.95 S Noct. Derived from the Latin plenum, meaning full, this is a lens that will create the most complete imagery – stills and video full of emotion, expression and beauty.
135mm focal length offers enormous creative options
The telephoto aspect of a 135mm lens means it is perfect for portraits that give the subject a little more room to breathe than, say, an 85mm. But it's not just a portrait lens. The NIKKOR Z 135mm f/1.8 S Plena is a storyteller. The telephoto reach makes it perfect for documentary shooting (either stills or video) and capturing moments in a combination of ultra-sharp subject and dreamy bokeh. Combined with the amazing Eye Detection AF capabilities (even at fully wide open), it's perfect for capturing candid moments on the street, at weddings and out in nature.
Amazing sharpness
Even fully open with a shallow depth of field, the NIKKOR Z 135mm f/1.8 S Plena offers incredible sharpness on the subject.
Light weight
At approximately 995g, this powerhouse of a lens won't weigh you down. Plus, it will feel perfectly balanced on your Nikon mirrorless camera during a full day's shooting.
Superb AF
The autofocus system of the NIKKOR Z 135mm f/1.8 S Plena has been designed to support the outstanding optical performance, enabling super-fast AF even at f/1.8. You can easily capture sharp images of moving objects, such as birds or other small animals, where other 135mm lenses might struggle. Plus, two stepping motors provide a quiet operation and also smooth changes of focus when shooting video.
Discover the new NIKKOR Z 135mm f/1.8 S Plena
Deep Focus
•

28 sep. 2023
•

Nikon Team
Inside the numbers on a new legend in lenses: the NIKKOR Z 135mm f/1.8 S Plena
Hot Shots
•

28 sep. 2023
•

Nikon Team
Get the most of the Nikon's new bokeh star with these tips and tricks