Nikon Z 8: a short guide to features
Nikon Team
•

Teknologi og viden
•

10 maj 2023
•

2 min. læsning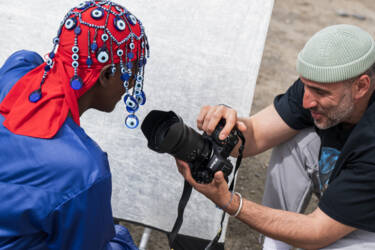 In this guide we cover the new Nikon Z 8's latest features: VR Lock, Real-Live Viewfinder and Airplane mode
VR Lock keeps your sensor extra-safe
With this automatic feature shooting handheld has never been smoother
The in-body Vibration Reduction (VR) in Nikon's pro-level mirrorless cameras is a godsend to many photographers and videographers. Shooting handheld has never been easier, and the VR keeps your shots steady and smooth. In-body VR relies on the sensor being able to move to counteract slight movements of the camera body, allowing for those sharp pictures and at lower shutter speeds when handheld. Of course, this also means that the sensor is not fixed in a single position. Nikon cameras are famous for their toughness and durability in any environment but, for extra peace of mind, the Nikon Z 8 now comes with VR Lock technology, the same as found on the flagship Nikon Z 9. This means that if you are, for example, driving long distances off road where your gear is prone to sudden moves, your sensor can be locked in position for extra safety and any vibration will not affect it. The VR Lock will be enabled automatically when you switch the camera on.
Shoot without interruption with Real-Live Viewfinder
There's no blackout to the action with the Nikon Z 8
Real-Live Viewfinder lets you capture the moment without interruption. Using dual stream technology, as found in the flagship Nikon Z 9, still image data and live view data can both be processed separately at the same time. This means no blackout or warp when you're shooting, and no repeat frames occur* as you might experience with competitor models, allowing you to continuously monitor your subject while shooting to get the shot you need. It's a real bonus if you're shooting fast-moving subjects such as birds, other wildlife, sports events, cars and more.
*View differs dependant on settings such as shutter speed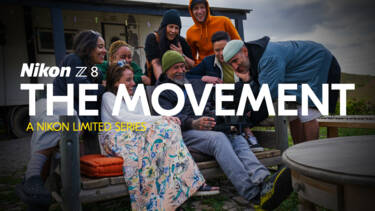 Jump into The Movement series
Hit the play button to discover more
Is it a plane? Yes it is, and the Z 8 will lock on!
All new Airplane mode launches on the Nikon Z 8
Completely new for the Nikon Z 8, Airplane mode has been added to the autofocus menu, making the AF as advanced as the flagship Nikon Z 9.
Airplane mode allows stable detection of any aircraft, no matter the magnification of the object. Aircraft can be detected in very low light situations even when there is a complicated background. This is all on top of the same incredible AF performance as the Z 9, including class-leading nine types of simultaneous subject detection, 20 types of custom, wide area AF and 3D tracking.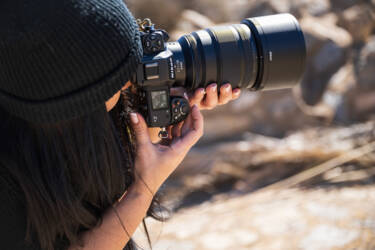 Unlock greater creativity