Shooting mountain sports with Aurelie Gonin and the lightweight Z 8
Aurelie Gonin
•

Sport og action
•

10 maj 2023
•

5 min. læsning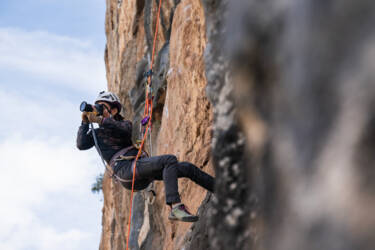 A handful dare to climb mountains, but seldom film the adventure too — and here is where Aurelie Gonin's magic lies. The Nikon Ambassador shares the secrets behind shooting epic climbing ascents and how the new Z 8 is changing the game
When Aurelie Gonin says 'Action!' she really means it. Her energy levels and dedication mean that not only is she a videographer, photographer, director, editor and Nikon Ambassador, but also an author, trainer, and passionate teacher with many appearances both on TV and at sold out masterclasses. Action is also her theme, as she specialises in alpine sports, including skiing, climbing, mountain biking and more. If there's a mountain involved, Aurelie will want to be there.
Recently returned from testing the new Nikon Z 8 in Spain with eight other creators, Aurelie sat down with us to discuss her passions, what it takes to put yourself in the heart of the action and, of course, the Z 8.
Nikon: There's a lot of passion in your work. Where does that come from?
Aurelie: I always say you can't be lazy if you want to take pictures. Getting up early, going away for long periods, far away from home, there's a commitment that goes into creating the images we have in our minds. The pleasure of doing it is a huge compensation — but you have to put the hours in.
How does shooting alpine sports differ to others?
I'm there to show exceptional people showing their commitment and talent and the beauty of the environment. It's not like being in a stadium or a room. You have to be on site, you have to be in good shape. You have to be able to get yourself into the right position. You have to be able to know what is dangerous and what isn't. Of course, you have to be able to do a bit of rock climbing or skiing — not to the level of the people you're filming, but enough to understand so you can access the correct shooting position. I think that shared knowledge helps you understand their emotions and the more you share the better your images will be. I often sit with the athletes and go through shoots together to choose the edit. Sometimes I will look at a shot and think it's perfect with the light and everything, but for the athlete the gesture or body position is not perfect, and they'll pick out two frames later. It's a real collaboration.
You shoot other sports too that are more out of your comfort zone. How is that for you?
It really helps if you know the sport very well, but at the last Olympics I was shooting basketball, which is completely different to what I usually do. Of course, there are similarities between some sports, and I did a lot of research before going to know more about the sport. I would say though, that the more you know it, the more you know how to take a picture of it.
How do you prepare for shooting in what can be a very dangerous environment?
First, you try to be in good shape because you just cannot be tired. Sometimes you might have to hike much more than expected — perhaps you arrive at a spot and decide it's too dangerous and have to move on somewhere else. You really have to know the environment so that you know how to move in it. And you need to bring a lot of gear for your safety.
Videography and Adventure Sports with Aurelie Gonin
Hit the play button to discover more
That's the thing, you're not just carrying camera equipment, there's a lot of other stuff too…
Yes. So, for avalanche, for example, you need to have a shovel and a probe beacon. You need crampons, an ice axe, harness and more for glacier work. For rock climbing you need all the climbing gear too. It's a lot of weight in your backpack but you have to be safe.
Given all that extra gear, was the Z 8 a help in that regard?
Absolutely. The weight of your camera gear adds to the existing weight. So, if you have a small and super-good camera like the Z 8 it really helps. Then I can also choose just one lens to go with too. I like the NIKKOR Z 24-120mm f/4 S because it's a zoom and does everything I need so I can go with one lens and shoot several different kind of images.
Does a lot of planning go into your video shoots?
Of course, you have an idea before you go of what you're going to shoot and what you want to say. But you have to be open to what's happening because I'm not working in a fiction movie. I started in fiction, so I can tell the difference. And I don't like to interfere too much in what people are doing. I don't want them to pay much attention to me and I will be moving around a lot while I shoot, getting different angles. You can tell a story with one still image, but for video you need at least ten to build a sequence. I have to think 'Do I have my opening shot? Do I have my closing shot?' You constantly have to think about the editing that will happen later otherwise you won't have enough shots to build your story.
What advice would you give to a woman in particular looking to become a sports photographer?
Don't be shy and just go for it! I don't think there is any limit in being a woman in this kind of environment. Last year I was in Beijing working at the Winter Olympics and I was the only woman filming. But we had about a dozen young students there and at the end they told me 'You showed us that a woman can do any job'. And if I did that, it's the best thing I did during the games.
Do you have a message that you want to convey through your photography?
I think it is that you should follow your own path. These people I shoot, they made the choice to have a different life. Their lifestyle is very different to people who work Monday to Friday and I think it's good to push people to take a chance, to see difference as an opportunity. Maybe it's scary, maybe it takes more effort to get out of your comfort zone, but it may well bring you greater satisfaction.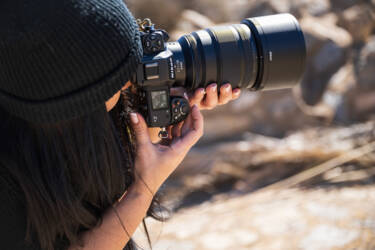 Unlock greater creativity