Seamlessly pair your phone to your Nikon camera with the SnapBridge app
Nikon Team
•

Teknologi og viden
•

30 maj 2023
•

2 min. læsning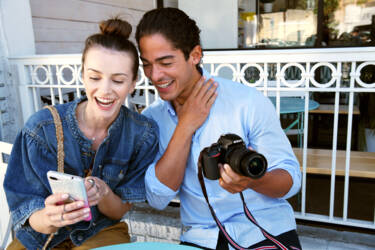 Say goodbye to wires and complicated procedures, with Nikon's SnapBridge app transferring camera photos or videos to a smartphone device has never been easier — or faster
Nikon's SnapBridge app for iOS and Android makes sharing between your camera and smartphone or tablet fast, easy and wireless.
There's no need to wait or rummage around for unnecessary cables with the SnapBridge app — simply connect your smartphone to your camera through Bluetooth® Low Energy technology for negligible battery drain.
You can post your images and videos online in minutes with SnapBridge's automatic uploading function, which puts 2 megapixel web-ready versions of your images on your phone.
Built with social media in mind
Whether you're a professional or accelerating your content creation, SnapBridge can pair up to five Nikon cameras with your smart device — and you only ever need to pair each camera once! Plus, the app automatically switches to your camera's built-in Wi-Fi when you transfer movies, RAW files or large JPEGs.
SnapBridge is built with social media in mind. You can organise your files and keep all your followers informed by adding hashtags, captions, copyright info and more within the app. On the move? SnapBridge uses GPS to track your adventures and your camera will always be updated with the correct time. Plus you'll never miss a firmware update as SnapBridge will notify you when one becomes available.
Shoot remotely
Another great feature of SnapBridge is the ability to shoot remotely by connecting your camera via WiFi to your device, which will display a live view of everything your Nikon camera sees. Perfect for selfies and vlogging, you can compose shots, alter settings, select stills or video, and then with a simple touch of the screen remotely fire the shutter. A control bar allows you to change shutter speed, aperture, exposure, ISO, white balance and more.
Once registered with a Nikon ID you can access Nikon Image Space for free automatic uploads of unlimited thumbnail pictures, plus 20GB of free automatic storage for full-size pictures and videos — meaning you can save your smartphone's limited storage. From there, organise photos into albums or themed galleries.
The SnapBridge app will help you take your Nikon adventure to the next level. For a deep dive tutorial on all the functions of the app click here.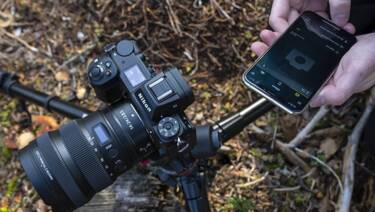 How to setup SnapBridge — your camera's bridge to the world
Hit the button below to explore
Expand your horizons
Teknologi og viden
•

13 jun. 2023
•

Kiran Cox
How to style, compose and light a flat lay photograph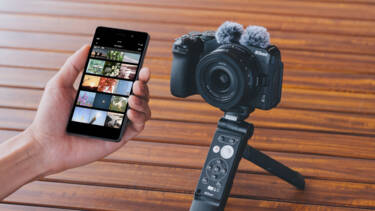 Camera to socials in minutes