Inside the numbers of the new NIKKOR Z DX 24mm f/1.7
Nikon Team
•

Deep Focus
•

29 jun. 2023
•

3 min. læsning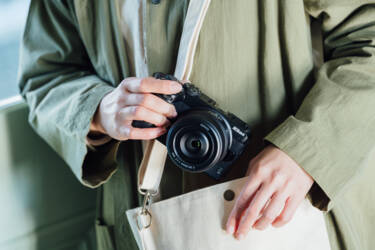 Stats and specs of the new DX prime lens explained
The new NIKKOR Z DX 24mm f/1.7 is the first DX prime lens for the Nikon Z mount. With a full frame equivalent fixed focal length of 36mm and a wide f/1.7 aperture, all housed in a small, lightweight package, it could be the lens you've been waiting for to take your creativity to the next level.

Whether you have a Nikon Z 30, Z 50 or Z fc, this prime lens is tailor-made for your camera, giving you access to pro-like levels of background blur (bokeh) at an amazing price.
Let's take a dive into the spec and the stats (and find out what they mean).
Mount: Nikon Z mount
Nikon's Z mount, designed for mirrorless cameras, is wider than the competition, and a wide mount means more light (and more detail) hitting your camera's sensor.
Focal length: 24mm
This is 36mm in full-frame terms and gives you a field of view that can take in a huge variety of subject matter, from cityscapes to close-up details. It's also the perfect focal length for street photography. The NIKKOR Z DX 24mm f/1.7 can be your all day (and all night) lens.
Maximum aperture: f/1.7
The wider the aperture, the lower the number, so the f/1.7 is very wide indeed, especially for a lens at this price. Prime lenses often have wider maximum apertures than zooms and an aperture this wide means you can shoot in low light situations and still get great shots. Wide aperture also means you can create strong depth of field effects with a blurred background (bokeh). Of course, if you want to create a deeper, flatter depth of field and get rid of bokeh, the lens goes all the way to f/11.
Lens construction: nine elements in eight groups
A camera lens isn't just one piece of glass — it's many. Some elements are sometimes joined together as one group. In the case of the NIKKOR Z DX 24mm f/1.7, there are nine separate pieces of glass making up the lens (two of which are bonded together – hence the eight groups), all working together to create perfect, sharp-focus results in stills and video. The lens' optical construction contains two aspherical elements that effectively correct distortion.
Diaphragm blades: perfectly rounded
The diaphragm is where the lens opens and closes the aperture like the iris of your eye and is composed of blades that close in on each other to create a hole where the light gets through – picture the start of any James Bond movie. The NIKKOR Z DX 24mm f/1.7 has seven blades, which means the aperture is perfectly rounded to ensure the creamy-smooth bokeh.
Autofocus: stepping motor
This kind of motor is super-quiet, so you can shoot in places where making any noise might be a problem, such as weddings, and still be sure that whatever you shoot will be sharp.
Minimum focus distance: 0.18m
With the NIKKOR Z DX 24mm f/1.7, you can get really close to your subject. In fact, you can put the lens as close as around 12.4cm from your subject and get a sharp shot. And with the aperture opened wide to f/1.7, you'll get amazing separation between the subject and the background, giving you lots of dynamic, creative possibilities for stills and video.
Focus breathing compensation
When you change focus point* in a video, some lenses create a slight change in the angle of view, which can be offputting to viewers. This is called focus breathing. The NIKKOR Z DX 24mm f/1.7 has technology built in to minimise this effect and give your videos a smooth, professional look.
Dimensions and weight: approx 70x40mm and 135g
Incredibly light and compact, the NIKKOR Z DX 24mm f/1.7 pairs with your Nikon DX camera to create the perfect 'always with you' system, ready to shoot whenever inspiration strikes.
*Disclaimer: focus breathing may be noticeable depending on the distance between the lens and the subject due to the characteristics of the lens.