Introducing The Movement
Nikon Team
•

Teknologi og viden
•

30 maj 2023
•

5 min. læsning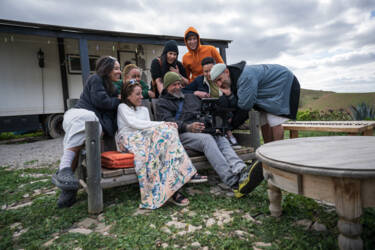 A Nikon limited series follows nine creators as they embark on a trip around the west coast of Spain with the new Nikon Z 8
It's time to step it up a notch. Introducing The Movement, a deep dive into the purpose of image-making with the new Nikon Z 8. Prepare to be amazed by the capabilities of Nikon's newest full-frame mirrorless camera. The Z 8 is engineered to provide the perfect combination of agility and power, with outstanding technology built in, whatever — and however — you shoot. But don't just take our word for it.
In an exclusive new video series, we took nine leading creators across all aspects of image-making. Getting hands-on with the Nikon Z 8, they got deep into their process, their motivation, their creativity and, of course, their thoughts on working with the new Z 8.
During a week-long trip in Spain each creator took on their own project, while also watching each other, discussing the purpose of image-making in the modern world and sharing insights into technique across a wide variety of disciplines.
Stay tuned to see Frøydis Geithus combine fine art portraiture with wedding reportage, shooting action in the mountains with Aurelie Gonin, low light astrophotography landscapes with Mikko Lagerstedt, high fashion with Mous Lamrabat, inventive light play with Wonguy, portraits with meaning by Esther Horvath, shooting music video with Keziah Quarcoo and Cara Brown, aka Mahogany, and behind the scenes shooting with Pep Bonet.
We'll be releasing a new episode each week on Nikon Europe's YouTube channel and you can also catch them all as they're released right here on the Nikon Magazine.
Each inspiring episode follows one of the creators, revealing insights into their individual creative journey, approach and technique and the results during their time shooting with the new Nikon Z 8.
Don't forget to subscribe to the YouTube channel and ring the bell to be reminded when a new episode drops. You won't want to miss a minute.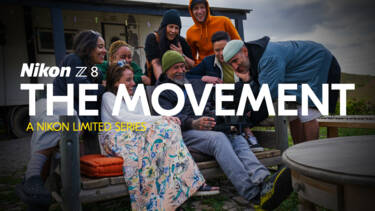 Nikon Z 8 | The Movement | A limited series about 9 creators using the new camera for the first time
Hit the button below to play
Aurelie Gonin and Frøydis Geithus
Each episode follows one creator's journey. First up to the stage is mountain sports videographer Aurelie Gonin and wedding and fine art portraiture photographer Frøydis Geithus. What do they both have in common? A love for nature.
Renowned for her Nordic-noir style images, Frøydis' 'Love is Love' shoot focuses on the power of nature to shape a love story. Harnessed in, Aurelie (quite literally) takes the Z 8 to the edge by shooting rock climbing. Absolutely breath-taking.
Mikko Lagerstedt
Next, Mikko Lagerstedt takes centre stage. From Finland, Mikko loves shooting minimalist landscape photography and astrophotography. His ultimate goal is to capture emotion through the landscape and make the viewer experience the sublime.
Mous Lamrabat
Be inspired by Moroccan-born Belgian photographer Mous Lamrabat's high fashion extravaganza. Passionate about the role that settings play in influencing narratives, Mous takes us along with him on his creative journey and reveals how he crafts unique details and empowers his subject.
Olivier Wong, aka Wonguy
Famous on social media for his portrait videos, Wonguy steps up his creativity with the Z 8 by challenging himself to shoot something he's never attempted before (you'll have to watch to find out). Expect technical detail and breath-taking images.
Esther Horvath
Armed with the new Z 8, Arctic photographer Esther Horvath is ready to shake up the status quo. Born in Hungary, Esther has always been greatly influenced by the landscapes surrounding her, and through her Arctic and portrait photography she aims to fight climate change and empower individuals at the battlefront of science.
Keziah Quarcoo and Cara Brown
With their fresh new take to shooting live performance music, Director and DOP team
Keziah Quarcoo
and
Cara Brown
, from Mahogany, will have your feet tapping in no time. They dive into the best angles that spark a narrative and show how easy it is to switch between filming video and shooting stills with the
Z 8
.
Pep Bonet
Enter award-winning filmmaker Pep Bonet.
A master of behind-the-scenes
action, Pep starts our
limited series
by introducing the creators who were lucky enough to get their hands on the
Z 8
. Pep reveals their individual creative journeys and the reality of their inner creative processes, from excitement to relief and everything in between and then finishes
The Movement
off with a bang with his
approach to videography
.
Our creators unravel the Nikon Z 8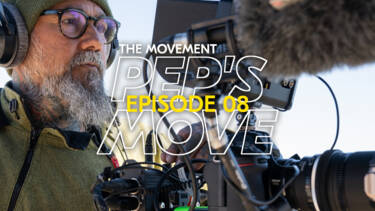 EPISODE 8 How to tell a story with Pep Bonet
EPISODE 7 Filming a live performance video with Kez and Cara
EPISODE 6 Documentary photography with Esther Horvath
EPISODE 5 On the road with content creator Wonguy
EPISODE 4 Fine-art and fashion photography with Mous Lamrabat
EPISODE 3 Landscape and nature photography with Mikko Lagerstedt
EPISODE 2 Videography and Adventure Sports with Aurelie Gonin
EPISODE 1 Destination Wedding Photography with Frøydis Geithus
THE MOVEMENT A behind-the-scenes film by Pep Bonet
Introducing the Z 8 to our nine creators for the first time, The Movement is a reflective, deeply personal series that defines our creators' purpose as image makers and their approach to their own visual style.
With the Z 8, the ability to get up and shoot has never been easier – so what are you waiting for?
Discover the Z 8
Mennesker og begivenheder
•

10 maj 2023
•

Frøydis Geithus
Finding props in nature: Frøydis Geithus and the Z 8
Sport og action
•

10 maj 2023
•

Aurelie Gonin
Shooting mountain sports with Aurelie Gonin and the lightweight Z 8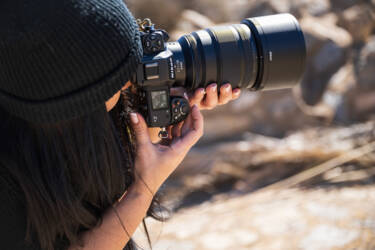 Unlock greater creativity