Get started with a gimbal for smoother video
Nikon Team
•

Videooptagelse
•

01 sep. 2023
•

3 min. læsning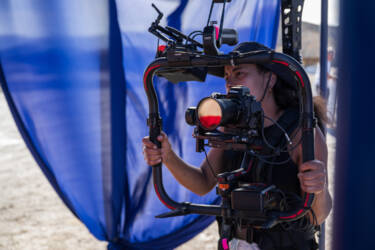 Elevate your videography and shoot on the fly with a gimbal
A gimbal is a device that allows you to mount your camera for smoother video. Gimbals use sensors and axes to counteract external motion and jarring to ensure smooth, fluid footage without camera shake. They're well suited for run-and-gun filmmaking – where you film reactively, normally while moving with your subject – and for when you're shooting on the fly.
While in Spain shooting The Movement series with the new Nikon Z 8, director and DOP team, Keziah Quarcoo and Cara Brown, vertical videographer Olivier Wong and videographer Pep Bonet all used a gimbal. Chatting to Nikon magazine, they reveal the dos and don'ts to shooting with a gimbal.
Keziah Quarcoo and Cara Brown: make it cinematic
Filmmaking partnership
@caraisbrown and @keziahquarcoo
"A gimbal automatically makes everything look really cinematic," Keziah explains. "There's a fine line – you can easily overuse a gimbal, so there does need to be a purpose to using it, but a gimbal works particularly well in performance videos because it's very fluid. Plus, if there's dancers, like in our video, you can get quite experimental with a gimbal."
Cara adds: "If you plan a shot well enough, you don't have to use any cuts with a gimbal because there's smooth movement throughout. In Spain, we did one take with our live performance video, which, of course, had its challenges. For one, the desert was especially windy, and the gimbal takes up more space and our blue fabric [set design] kept blowing in the wrong direction. We had to keep retaking the shot.
"Having the camera on a gimbal provides nicer movement and can help inform your composition because you are moving within a space and the camera is moving in whatever direction you're going."
Olivier Wong: shoot long, wide-angle shots to reveal the environment
Vertical videographer and travel photographer
"I mostly do run-and-gun shooting with the camera on a gimbal and I prefer to go lightweight, which is why I like the compact body of the Nikon Z 8. It has the video features of the Z 9 so I can shoot for my needs (8.3K in 60p in RAW video and 4K up to 120p) and it's also built for vertical shooters like me! There's a vertical playback and the four-axis tilting screen is useful for vertical shooting – it's very convenient.
"Some videos that require a little more shake suit shooting handheld, but, for my style of videography, I do longer, wide-angle shots where you can really reveal the location and see the environment around the subject. In Granada, I followed my main subject and turned around to show a different perspective. Having the gimbal is good when you're doing four or five steps of continuous shooting otherwise everything would be shaky and it would break the movement."
Pep Bonet: think style before picking up a gimbal
Filmmaker, director and BTS specialist
Not sure if a gimbal is right for your film? Shooting handheld offers a realistic in-the-moment perspective, says Pep, but for smoother, more cinematic movement use a gimbal.
"The real challenge when you change from stills to videography is camera movement. There's so many possibilities with movement – you could shoot handheld, with a crane, slider or gimbal. Movement is the key to filmmaking. First understand what kind of film you want to do and what you're after, and then try to find out what will work for your film. Perhaps a steady shot or a lock shot is best, or a handheld-moving camera or a very small camera movement, or even a gimbal."
Quickfire tips and tricks:
Keep the gimbal close to your body for ultimate control
Move slowly when filming to track movements better
Consider walking backwards to control the speed of your motion better but…
Be aware of your environment! It's easy to trip while moving around with your eyes on the screen. Pre-check your moving path or have someone guide you while you shoot
Always ensure your gimbal can hold the weight of your camera
Think shots: try dolly in/out, tracking shot, pan/tilt, crane shot or pull back
Walk softly with your knees bent to help the gimbal achieve the extra steady and fluid shot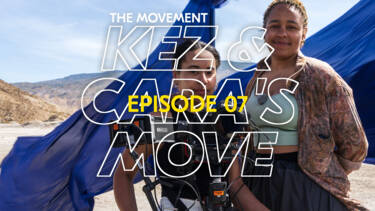 Filming a live music video with a gimbal with Kez and Cara
Click the button to play