How to shoot a live performance video
Keziah Quarcoo and Cara Brown
•

Videooptagelse
•

14 jun. 2023
•

6 min. læsning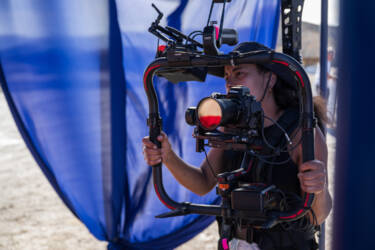 Breaking down the elements of shooting a live performance video, Director and DoP team Keziah Quarcoo and Cara Brown reveal their approach to shots, designing sets, using a gimbal and uncover the Z 8's standout features
Ready? Action. Director and DoP team, Keziah Quarcoo and Cara Brown, met seven years ago and have been working together for the last three years. Recently returned from Spain testing the new Z 8, the duo shot a live performance of British singer-songwriter Låpsley. Now, they're sitting down with Nikon magazine to discuss the nuances of shooting a live performance video and how best to unleash your creativity.
Research the artist
First things first, make sure you do your research. Allowing yourself to digest the genre and lyrics of the artist will ensure you understand their music and style. In Spain, Keziah and Cara worked with singer Låpsley and through prior research were able to visualise the singer's tempo and make her words into a visual collaboration.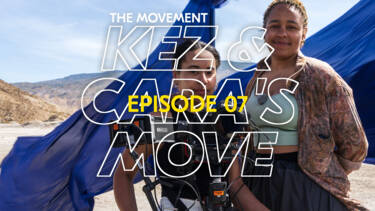 How to film a live performance video
Hit the play button to explore more
Plan test shots
Planning is everything. Keziah and Cara often start by brainstorming ideas together to formulate a plan and then start looking at locations. "Once we've got an idea of the location, it's a lot easier to plan the logistics and how it will be lit or not lit," Cara explains.
Just starting out with music videos? Don't worry about having limited resources. "For The Movement, we started out by planning in my garden because we wanted to experiment with lighting and movement," Cara says. "We rigged the camera in a way where it could still move fluidly like a gimbal and not just handheld, so we could have an idea of how comfortable it is to move during shots," she says. "I would stand in the middle of the frame, or we would switch so both of us could either show or share the perspective," Keziah adds.
Their preparation set them up well in Spain because they knew what their shots required. "In the first test we realised we needed to have a [camera] choreography that's quite intensive because if we're just moving around the artist in one motion it could become flat.
"It was useful doing the garden test because we figured out the timing of the track. We knew we needed some elements to make the video feel progressive and feel as if there are multiple moments in it and not just be repetitive," Cara says. "It was also good because we could roughly work out the size of the set that we would want to build based on the size of my garden."
Think sets, sets, sets
The duo is very much hands-on with the entire creative process. In Spain, they used a flowing light blue fabric to compliment artist Låpsley and the mountains behind them.
"The mountains and bright blue sky meant it was still neutral enough that we could then create a set design that really stood out but complimented the space around us. We knew we wanted to create some sort of shape that we would hang fabric from," Cara says.
A cylinder shape to drape the blue fabric around was chosen to ease the viewer into thinking they were near the ocean. "We wanted something to be flowing and have a lot of movement," Keziah adds. If you have spare time, the duo advise practicing physical movements.
Gather the right gear
With the Z 8, Cara and Keziah are able to step up their game. "Straight out of the box, I was impressed by the size. We knew we were going to use a gimbal and we knew that the bigger the camera, the more difficult it is to set up a gimbal and balance it," Cara says. "It's nice to have something that can give you a large number of options in a technical sense that is also small and mobile because no one wants to carry a massive camera for a self-shooting, one-take job," she adds. "It gives you more options in terms of being fluid and being able to move around and travel.
"We were both worried we would need a focus puller because of the amount of movement that we had going on in the video — we knew that we'd be weaving in and out and also moving around. The Z 8 performed really well, and the ins and outs of the autofocus are so smooth."
The most impressive function? The camera can shoot up to 8.3K in 60p (in RAW video) and 4K up to 120p which adds so much more flexibility, Cara says. "The camera also automatically creates proxies so you can edit clips on your computer straight away and with ease. Not all smaller cameras do that."
Shooting in a desert with the occasional windstorm can cause quite a challenge but the Z 8's sensor lock means sand and other particles will be kept out. "Sand was more of a worry than we initially thought, but the lock meant absolutely no sand in the sensor," Keziah explains.
Cara loves that she can switch from video to stills with a hit of a button, plus you can keep your video and stills settings separate.
And don't forget the right lenses...
The NIKKOR Z 35mm f/1.8 S lens is the partnership's preferred lens because it's flattering and wide enough to still capture enough background.
They used the NIKKOR 24mm f/1.4G ED as well. "It was useful for us because in Spain we had less than five metres to work with, so we needed a lens where we could get close enough to Låpsley, and where we could fit the two of us and the gaffer moving around constantly and not get caught up in the fabric, plus see the surroundings. The 24mm gave us the range," Cara says.
Manipulate light to elevate your video
They used an app to note the position of the sun during the day to monitor the harshness of the light and avoid shadows during shooting. Having the set build with the blue fabric created diffusion with the light and made the sun softer on their artist.
"Our gaffer held a checkerboard poly board, which bounced some of the light back just to give a little bit of fill. So, if you're shooting outdoors and you're fighting the sun, then the best way to manipulate light is to either soften it with a diffusion frame or to bounce some light back so that it just fills in the shadows, which is what we did," Cara says. "The gaffer basically just chased me around, bouncing the light back to the artist because we couldn't really diffuse the light due to some restrictions and because there was so much movement going on!"
Use a gimbal to expand your creativity
"A gimbal automatically makes everything look really cinematic," Cara says. "There's a fine line — you can easily overuse a gimbal, there does need to be a purpose of using it, but it works particularly well in performance videos because it's very fluid. Plus, if there's dancers you can get quite experimental with movement without worrying about things like extra grip or camera shake."
If you do one thing...
"Your concept and ideas are more important than the resources you have sometimes," Keziah says, "you can make something so much more exciting by being creative and experimental."
And, as Cara reminds us: "And if you don't have lights, you've always got the sun!"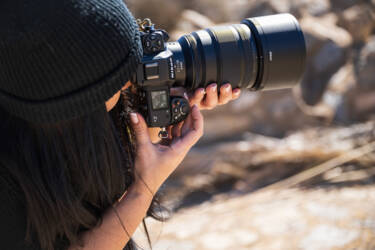 Unlock greater creativity