How to capture candid family moments with Samir Hussein
Samir Hussein
•

Mennesker og begivenheder
•

27 okt. 2023
•

7 min. læsning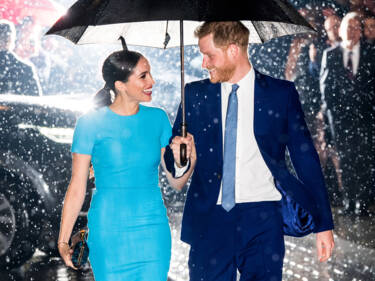 Celebrity photographs are all about capturing the moments in-between says award-winning photographer Samir Hussein. So, for those of us who don't see celebrities quite as regular as Samir, here's how to apply his style to your family shoots
If you've ever browsed the latest news of your favourite celebs or flicked through a magazine with a member of the British royal family on the front, chances are you've seen Samir Hussein's high-end sophisticated photographs. Sitting down with Nikon magazine, the Nikon Ambassador unravels the steps to make your family cover stars.
Evoke emotion
While celebrities and the royals may often seem untouchable, Samir aims to convey humanity in his photography. "By capturing more candid moments, I convey a lot more emotion and present the celebrities as more relatable," he explains. At home, shoot your family mid-laugh or while looking away from the lens. Tell a joke, watch the kids discover a new location or open a new present – the opportunities are endless.
Top tip: Use a zoom like the NIKKOR Z DX 16-50mm f/3.5-6.3 VR or the NIKKOR Z DX 50-250mm f/4.5-6.3 VR on a DX camera (Nikon Z fc, Z 50, Z 30) to shoot on the move, perfect for getting close-ups when your subject is not looking.
Look for the moments in-between
Celebrities are constantly being photographed – so, how does Samir's photography stand out? "The aim is to show a slightly different side of the person. For example, when I'm shooting the Royals at an engagement, just by the nature of what they're doing, they can be quite stiff, so you're looking for those little moments in-between that might come up. I know from experience with William and Kate that there might be a quick moment where they give each other a little smile or a little look, or there might be a little joke that they're giving someone. And suddenly, you can get this beautiful picture where they're laughing, or they're just giving each other a private look, or relating to the people that they're talking to," Samir explains.
Top tip: Learn to anticipate moments of emotion: empathy, love, humour or even anger, at home with your own family. These candid moments are often fleeting, but they're the best pictures because they convey so much.
Take a variety of shots
Just because your photos won't (presumably) be seen by millions of people online doesn't mean you shouldn't freestyle with composition. Get down low, shoot from a higher angle or keep your aperture wide to narrow your depth of field to create a nice blurry background (click here for a guide to bokeh and depth of field). Better yet, place fairly lights in the background to add drama.
"I'm a freelance photographer and I sell my photos to magazines, websites and newspapers which all have a slightly different market," Samir explains. "Photos live from the camera sent to newspapers won't be the same photos used in magazines, plus I'm always looking for long-term pictures that can be used in months, or decades to come.
"When I'm photographing Kate, fashion magazines are always interested in what she's wearing, so I'd take a full-length shot. For a front-page photograph, they'd want a tight headshot or half-length photos. Even in a headshot, you want to convey what they're doing at the time and show their location. My advice would be to always shoot as many different styles and pictures as you can. Be switched on, because you rarely have time to look away because you never know when these spontaneous moments are going to come."
Top tip: Portraits don't have to have a neutral background. Use a wide-angle lens for portraits (like the NIKKOR Z DX 12-28mm f/3.5-5.6 PZ VR) for extra drama. Take your shoot outdoors and photograph your family near glittering water or within a forest or use the city lights at night to create a dazzling backdrop.
Shoot both zoom and prime
Samir shoots with three Nikon Z 9s and has a variety of lenses due to the scope of his work, including zooms NIKKOR Z 70-200mm f/2.8 VR S and NIKKOR Z 24-70mm f/2.8 S, plus primes NIKKOR Z 50mm f/1.2 S, NIKKOR Z 85mm f/1.2 S and the AF-S NIKKOR 200mm f/2G ED VR II. Samir also uses the NIKKOR Z 400mm f/2.8 TC VR S and NIKKOR Z 600mm f/4 TC VR S for when shooting further away. "For me, the colours look amazing and the new Z lenses, especially the prime lenses, are just phenomenal. I think that's what makes Nikon stand out. The quality is top-notch."
Top tip: For beginners with a DX camera (Nikon Z fc, Z 30, Z 50), the NIKKOR Z DX 24mm f/1.7 lens is made for stand-out portraits of your family and friends. A wide f/1.7 aperture allows a lot of light into the camera's sensor, perfect for shooting in low-light but also creating a lovely bokeh effect around your subject. For full-frame camera users, try the NIKKOR Z 40mm f/2, NIKKOR Z 28mm f/2.8, or the all-rounder zoom lens the NIKKOR Z 28-75mm f/2.8.
Master light
"Light is the first thing I look for when shooting," Samir says. "One of the most important things you can do as a photographer is to learn to master light as this is what makes your image stand out." Learning the difference between hard and soft light, colour temperature and external light such as flash is all important (for a beginner's guide to light click here).
"I love shooting with available, natural light. I don't like using off-camera flash, that's always a last resort, but I do bring my Profoto speedlights with me on location."
Top tip: Set your aperture as wide as possible (f/1.7, f/2.8, f/1.8 depending on your lens) and shoot with your family outside in the evening or in low-light. Play with shadows for added creativity.
Shoot your cover star
So, how did Samir create the viral image of Harry and Meghan (below)? "It was a completely spontaneous moment. This was one of their last engagements before stepping back as working royals. There was a lot of pressure to get pictures while they were still around," Samir explains. "As you can see from the pictures, it was absolutely pouring and everyone thought we weren't going to get good pictures because they were going to have umbrellas, and they're walking into the building, and it's dark.
"Before they arrived, I spoke to the couple's press team to work out where they were going to walk. I adjusted myself so I was dead-on to where they would be walking towards me, and I did some test shots with fill-in flash to illuminate them. There was already a lot of photographers and camera crew that had gathered so there was a really harsh light coming from behind Harry and Meghan, and that blinded me for a second and I had to manoeuvre myself a couple of inches so I was able to position the light that was shining towards me behind Harry and Meghan. Instead of coming into my camera lens, the light hit the back of them, and created a beautiful halo effect. This was only a second or two, but it all came together: the backlight creating a halo effect as the rain came down, my own flash coming in front of them and then, for a split second they looked at each other and smiled. It had all the elegance you wish for as a photographer: great lighting, a lovely moment smiling, the drama of the rain and umbrella. It came together perfectly."
Top tip: Have a go at backlighting by positioning your family in front of the sun outside or at the beach. For sun stars, stop down your aperture (f/10 normally works for sun stars) while pointing the camera at your family. The sun should filter through the edges of the aperture blades, creating that gorgeous sun star effect.
Samir's biggest advice? Shoot. Then shoot some more
Samir never received formal photography training and learned by shooting as much as possible. "By constantly shooting, this is when you learn about light, angles, composition, and manual settings. Being a good photographer only happens by putting in the hard work and shooting as much as you can," he says.
"Draw inspiration from other photographers you admire, analyse their photos, and try to replicate their style. Experiment, try different angles, low or high, and see how that affects the image. With children, go down to their level because it makes such a difference to perspective. Make your family shoots fun and try different props. If you can learn to shoot in a more spontaneous, candid way, the more you shoot the more you learn to anticipate those moments and capture the beautiful memories. If you do have a passion for photography, dream big because there's so much you can achieve."
View more of Samir's work here.
More in people and events
Mennesker og begivenheder
•

14 jun. 2023
•

Malin Mörner
Keeping moments alive through candid photography
Mennesker og begivenheder
•

07 jul. 2023
•

Esther Horvath
Capturing the portrait moment with Esther Horvath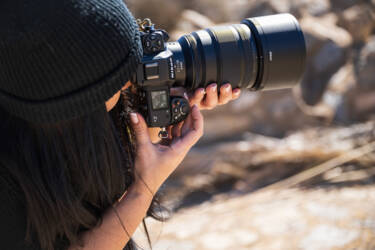 Unlock greater creativity