How many lenses do I need?
Nikon Team
•

Teknologi og viden
•

08 sep. 2023
•

8 min. læsning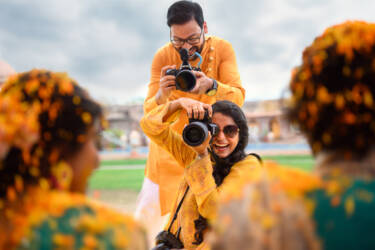 Camera, photography interests, budget — these all play a decisive role when purchasing a new lens. In this guide, we break down lens types and reveal the 'holy trinity' of camera lenses 
Whether you're looking to purchase your first Z-series mirrorless camera or have recently received one, chances are your first optic will be a kit lens such as the NIKKOR Z 24-70mm f/4 S or NIKKOR Z DX 16-50mm f/3.5-6.3 VR. These lenses are competitively priced and feature versatile focal lengths. As such, they are often bundled alongside a Nikon camera, so you can start taking photos straight from the box.
But while some lenses are more versatile than others, no one lens can do everything. You may soon find yourself craving different image possibilities, additional versatility or a specific optic that fulfils a particular requirement. Building a lens collection is therefore a personal pursuit that can differ greatly from photographer to photographer.
Unfortunately, there isn't a magic formula for the number and variety of lenses you need. If you want to expand your creative toolkit, you'll need to consider your camera, photography interests and budget. The ability to swap optics is the cornerstone of the interchangeable-lens camera, and the information below will help you to choose the right NIKKOR lens for you.
What's the difference between DX and FX lenses?
Before purchasing new lenses, you need to consider the format of your Z-series mirrorless camera's sensor. This will either be a DX sensor or a larger FX (full-frame) sensor. Lenses with DX in the title, such as the NIKKOR Z DX 50-250mm f/4.5-6.3 VR, have been designed with DX-format cameras in mind, while every other lens is FX format. FX lenses work on DX cameras and vice versa, but in order to account for the DX sensor's smaller size it has a 1.5x crop factor.
This explains the different angle of view experienced when using a DX camera in full-frame (or 35mm) terms and can be simply applied by multiplying the focal length(s) of the lens in question by 1.5. Attached to a DX camera, the NIKKOR Z 40mm f/2 would produce an angle of view akin to a 60mm lens on a full-frame camera. If you're wondering how full-frame Z cameras are compatible with DX-format lenses, they feature a DX crop mode.
DX lenses are smaller, lighter and more affordable than FX lenses. And since a DX sensor will 'increase' a lens's reach, users can use this to their advantage if they want to avoid expensive longer lens prices. However, if you want to get the most out of the very best Z lenses available, an FX camera is probably for you.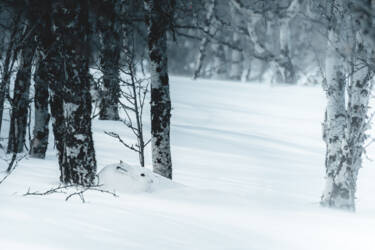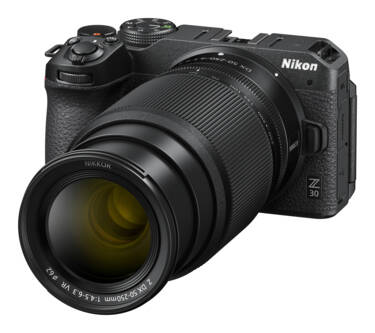 NIKKOR Z DX 50-250mm f/4.5-6.3 VR on a Nikon Z fc
Lens types
You now need to identify the focal lengths that will suit your needs. Full-frame focal lengths can be approximately categorised into the lens types below, which makes their application a little easier to understand.
Anything below 24mm is considered an ultra-wide-angle lens, ideal for framing sprawling landscapes or vast night skies. Wide-angle lenses range from 24-35mm and offer slightly tighter — yet still suitably wide — angles of view, making them ideal for landscapes, architecture and stylised wide-angle portraits.
You then begin to enter the standard or 'normal' focal length range, which is the home of the much-loved 'nifty fifty.' These focal lengths boast angles of view that aren't too wide, nor too tight, and are closer to what you see with the naked eye, making them suitable for a huge range of applications, including portraits, events, travel, still life and street photography.
Go beyond 70mm and you enter telephoto territory, popular with portrait, live events, wildlife and sports photographers. Anything that's 300mm or above is considered a super-telephoto focal length, favoured by wildlife, sports and aviation photographers.
Zooms vs primes
All Z lenses fall into two categories: zooms and primes. The former allows you to change the focal length across a predefined zoom range. The latter has a fixed focal length that cannot be changed. Zoom lenses are therefore much more versatile than primes, since you can close or open the distance between you and your subject from a static position, while simultaneously altering the angle of view. Some zoom ranges cover multiple lens types, too: the NIKKOR Z 24-200mm f/4-6.3 VR encompasses wide-angle, standard and telephoto focal lengths, freeing up space in your kitbag.
But what prime lenses lack when it comes to versatility, they make up for in overall performance. Fewer components generally result in smaller and lighter lenses, while prime lenses are generally also faster (i.e. with a larger aperture). Many examples boast maximum apertures below f/2.8, such as the NIKKOR Z 50mm f/1.8 S and Z 50mm f/1.2 S, and that means better low-light performance and better blurred background, or 'bokeh'. Together with the revolutionary Z-mount and advancements in lens construction, differences in image quality between the latest premium zoom lenses and primes are negligible but, across the board, prime lenses are synonymous with minimal aberrations and distortions, and razor-sharp imagery.
If you require versatility in a pinch, want to spend less time changing lenses or simply to minimise the amount of glass you have in your collection, then zoom lenses are the way forward. If you want a tip-top performer and a more portable lens in the hand, consider investing in primes. And, of course, many photographers implement both into their workflow.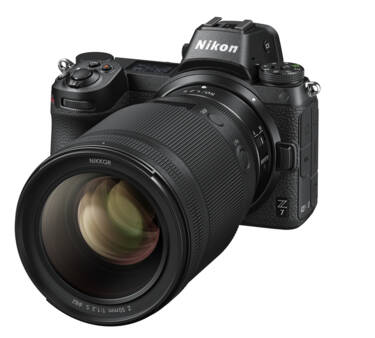 NIKKOR Z 50mm f/1.2 S on a Nikon Z 7
The 'holy trinity'
A common goal for photographers who desire a multi-lens setup that can cover as many focal lengths as possible, while fitting into a single camera bag, is to acquire a 'holy trinity' of lenses. Z-mount photographers can achieve a seamless 14-200mm zoom range without compromising on quality via the premium S-line 'holy trinity'. This combines the NIKKOR Z 14-24mm f/2.8 S, NIKKOR Z 24-70mm f/2.8 S and NIKKOR Z 70-200mm f/2.8 VR S.
Træk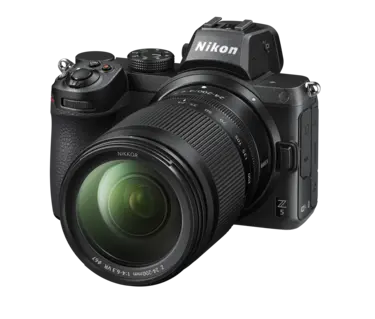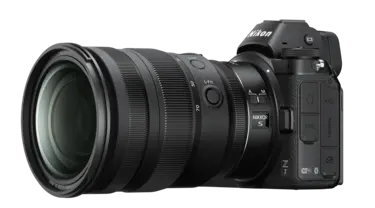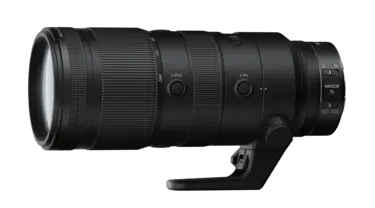 Using F-mount lenses
If you're moving from a Nikon F-mount DSLR and still want to use your collection of F-mount glass, you can do so with the Nikon Mount Adapter FTZ II. This allows you to attach approximately 360 F-mount lenses to your Z-series camera, with no loss in image quality. And if you're using a Z-series camera with in-body Vibration Reduction, it will even help to stabilise your F-mount lenses, whether or not they also feature VR.
Which lenses are best for me?
It's impossible to come up with a definitive list of lenses for each genre, since every photographer's budget and needs are slightly different. But here are some general recommendations that will point you in the right direction.
Light and affordable
If you're looking for a set-up that's versatile, affordable and super lightweight, and don't mind using DX-format lenses, look no further than our first ever Z mount prime lens for the Nikon DX series, the NIKKOR Z DX 24mm f/1.7. With an aperture of f/1.7, you'll be a bokeh master in minutes and it's perfect (and specially made) for the Nikon Z 30, Z fc and Z 50. Combine this prime with the ultra-wide-angle power zoom lens, the NIKKOR Z DX 12-28mm f/3.5-5.6 PZ VR, and you'll be ready to shoot dramatic landscapes, vlogs and cityscapes – plus, it's only 205g, perfect for on the go. Add the NIKKOR Z DX 16-50mm f/3.5-6.3 VR and NIKKOR Z DX 50-250mm f/4.5-6.3 VR. That provides you with a huge 12-250mm zoom range (18-375mm, 35mm equivalent on a full-frame camera). The full-frame NIKKOR Z 28mm f/2.8 prime is a splendid option for candid portraits and vlogs, and offers a 42mm angle of view on a DX camera. Want to know why 2.8 is the magic aperture? Read here.
Landscape
The NIKKOR Z 14-30mm f/4 S is a great landscape lens for both FX and DX photographers, providing the latter with a 35mm equivalent 21-45mm. If you're looking for an FX lens on a tight budget, the NIKKOR Z 20mm f/1.8 delivers, along with a usable focal length and a fast maximum aperture. Landscape photographers often carry a telephoto lens to 'crop' into scenes. With that in mind, the NIKKOR Z 24-200mm f/4-6.3 VR would make a fine FX wide-angle-to-telephoto, one-lens setup.
Wildlife
DX-format lenses, or attaching FX lenses to a DX camera, will allow you to shoot at tighter angles of view for more affordable prices. Attached to a DX camera, the NIKKOR Z 24-200mm f/4-6.3 VR reaches a 35mm-equivalent super-telephoto view.
Street
Portraits
An 85mm prime is a portrait photographer's best friend, making the NIKKOR Z 85mm f/1.8 S almost essential — and throw in the wider NIKKOR Z 50mm f/1.8 S for environmental portraits. If you have a DX Z camera, that same lens will get you in the 85mm ballpark, while the NIKKOR Z 40mm f/2 will provide a 35mm-equivalent angle of view roughly akin to a 50mm lens. A budget-friendly option is the NIKKOR Z DX 24mm f/1.7 prime, which allows for close-up shots with beautiful wide aperture.
Vlogging
For full-frame videographers, the NIKKOR Z 70-180mm f/2.8 is a lightweight, compact lens perfect for getting closer to subjects and creating smooth bokeh. Plus, at 180mm, you can really create drama with your landscape or travel shots. Match it with the NIKKOR 17-28mm f/2.8, and the NIKKOR 28-75mm f/2.8 and you've got a superb f/2.8 trinity at an affordable price.
Weddings
Wedding photographers require a versatile setup they can carry around all day. The NIKKOR Z 24-70mm f/2.8 S finds its way into the bag of many wedding photographers, as well as the NIKKOR Z 85mm f/1.8 S. The S-Line 'holy trinity' mentioned above is also a great starting point.
Travel
Macro
To get up close and personal, macro lenses are what you need. Ideal for either close up shots of nature and still life subjects but also great for street photography and portraits. The NIKKOR Z MC 50mm f/2.8 is a fantastic all-round prime lens that is super-portable. The NIKKOR Z MC 105mm f2.8 VR S is a pro-level lens that delivers awesome bokeh and is perfect for close up stills and video.
Teleconverters
Teleconverters add extra focal 'reach' to an existing lens and work for both zooms and primes. Just add the teleconverter on your camera body, attach the lens and… bingo! With a Z Teleconverter TC-2.0x, your lens now has twice the focal length. So, couple that with your 70-200 zoom and you've just got a very novel 140-400. The Z Teleconverter TC-1.4x increases the reach of lenses by 1.4 (40%) while retaining 100% resolution. Want to know more? Read our guide to teleconverters here.