Get the most of the Nikon's new bokeh star with these tips and tricks
Nikon Team
•

Hot Shots
•

28 sep. 2023
•

3 min. læsning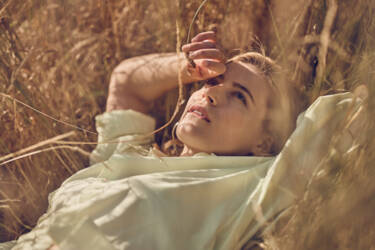 Get creative and try these techniques with the new NIKKOR Z 135mm f/1.8 S Plena for incredible results
Abstract your landscape
With the 135mm focal length providing compressed perspective and a tight angle of view, the NIKKOR Z 135mm f/1.8 S Plena is a superb lens for creating mood in landscapes. Take it to the woods to create fairy-tale-like images.
Portraits that burst from the screen
The 135mm has always been a 'go-to' portrait lens and, with the NIKKOR Z 135mm f/1.8 S Plena, you can easily take it to the next level. With such precise separation between ultra-sharp subject and creamy bokeh, you will be able to create portraits that firmly place the subject as the star of their story. Go further by having your subject placed where there is something in front of and behind them, such as very long grass or shimmering water, and you'll get that bokeh either side of the focal plane.
Go wild for bokeh
With a long enough reach for many wildlife shots, the NIKKOR Z 135mm f/1.8 S Plena is capable of remarkable storytelling. Think birds on glittering water, forest life (from squirrels right down to an insect on a leaf), or just your pet dog – this lens is capable of everything.
Make bokeh the star
Bokeh this incredible shouldn't be restricted to background or foreground. It can also create an entire image. For example, a cityscape at night can become a beautiful abstract image if it's all bokeh. Have a go to really see the benefits of this lens.
All you can eat
Take your food photography up several notches with the NIKKOR Z 135mm f/1.8 S Plena – utilising that tight framing of the 135mm focal length and the glorious bokeh to make each plate stand out.
Take it indoors
The NIKKOR Z 135mm f/1.8 S Plena is an amazing choice for studio work and fashion shoots. The combination of the 135mm focal length and the short minimum focus distance of 0.82m provides you with huge flexibility, while the separation between model and background will pinpoint what's really important in the shot.
Get your images moving
With suppressed focus breathing, near silent operation and amazing operability, the NIKKOR Z 135mm f/1.8 S Plena makes a fantastic video lens. Try an interview set-up with some visual interest in the background that will become creamy bokeh behind the subject. This creates a background that won't be distracting but nor will be bland or boring. It's also a useful lens to use in a big room, where the compression offered by the 135mm can create a more intimate setting.


Get outside
The 135mm focal length is perfect for capturing moments on the street, moving towards or away from the subject as necessary. Take the NIKKOR Z 135mm f/1.8 S Plena out for a stroll and you'll be ready whenever the moment arrives, with lightning fast autofocus putting your subject sharply in frame, surrounded by incredible bokeh. Watch people talking and be ready for an expression or gesture that tells the full story. Plus, the 135mm focal length means you can be far enough away from people that they don't have the camera in their face.
What are you waiting for?
Discover the new NIKKOR Z 135mm f/1.8 S Plena
Deep Focus
•

28 sep. 2023
•

Nikon Team
Inside the numbers on a new legend in lenses: the NIKKOR Z 135mm f/1.8 S Plena