Documenting the challenges of endangered species with the Nikon D6
Daisy Gilardini
•

Natur og dyreliv
•

08 jun. 2023
•

5 min. læsning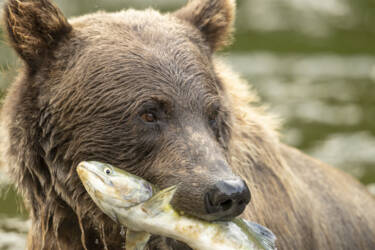 Award-winning photographer Daisy Gilardini embarks on a quest to capture the challenges faced by North American bears and Antarctic wildlife, putting the Nikon D6 through its paces in harsh conditions
I was 16 the first time I held a Nikon camera in my hands. I was a teenager and completely in awe of the big names in wildlife photography — Thomas Mangelsen, Tui De Roy, David Doubilet, Joel Sartore, Galen Rowell and Moose Peterson. They were heroes to me. When it came to choosing my equipment, the decision was quite simple, I went for the same brand used by my favourite photographers: Nikon.
Over the years I have experienced how challenging wildlife photography can be, not only physically, but also for your equipment. This is especially true for someone like me, who specialises in the tough polar regions where rain, snow, low light and other challenges are part of my everyday life. That's why I need a robust and very fast camera that I can truly count on. Nikon has always stood out for me because I can rely on my equipment even in the most remote and tough places in the world, ensuring I can always concentrate fully on my images.
Science and photography working in harmony
Photography is not just an art form. It is one of the most important and powerful means of communication that we have. It is a universal language, the only language understood by all, regardless of colour, faith, nationality or cultural background. I believe that beautiful and compelling photographs give us the opportunity to evoke people's emotions and touch their hearts.
As a nature photographer, it is my duty to capture the beauty of nature and its endangered wildlife, and to raise awareness of the protection of nature. While science provides the data necessary to identify problems and find solutions, photography reflects these problems in a way that everyone can understand. Science is the brain, photography is the heart. We need to reach people's hearts as well as their minds if we want to move them and galvanise them into action, for nature and for all of us.
Wild animals are usually most active in the early morning or evening. At these times, the light is very beautiful but also weaker than during the day. To freeze the movements of a bear jumping into a river to catch fish, I must shoot at a very high speed. This can be 1/500 of a second or an even faster shutter speed. In low light conditions, this is only possible by increasing the ISO sensitivity. This is exactly where the Nikon D6 demonstrates its strengths. The ISO capabilities of the D6 are impressive and give me the ability to work in low light.
The seals on the camera body means I don't have to stop shooting when it rains, and I don't have to worry about my equipment – I can just keep photographing no matter what. Even though I don't like working in the rain, I have taken some of my best pictures in bad weather. The combination of speed and the ruggedness of the Nikon D6 provides me with the opportunity to capture such magical moments.
High-quality equipment also helps with reacting to spontaneous situations. When I'm out and about, I can't control the environment or the actions of my subjects. After all, I can't ask a bear to repeat a movement! For this reason, fast autofocus is very important.
The Nikon D6 provides me with many useful autofocus (AF) options, from precise single-point AF to more dynamic focus areas such as the 9 to 105 AF points, 3D tracking, customisable focus groups and an impressive Auto AF mode. With the autofocus tracking, I can even determine the starting point of focus if I can roughly predict the position of the subject as it enters the focus frame. While the Nikon AF system has always had a good reputation in the industry, the D6 raises the bar higher. With the very good ISO performance in difficult conditions and the fast autofocus, I can capture high-quality images in a way that wasn't possible before.
Now is the time for change
The digital age and social media have unlocked opportunities for scientists and wildlife and nature photographers to a greater extent than ever before. Technologies and the internet allow us to reach more people in more places faster, more efficiently and more effectively than ever before in human history. We live in an information age. And while issues such as the climate crisis, industrial pollution and environmental devastation may sometimes seem impossible to overcome, we are better at communicating a message of hope and new opportunities today than at any time in history.
Nikon provides me with the tools to give a voice to endangered species and places. Through my photos, I see myself as an ambassador for nature. I have observed our relationships and deep bonds with bears without losing sight of the issues involved. Because of habitat loss due to the climate crisis, deforestation and human interference — there's an illegal trade in body parts and trophy hunting — these magical animals need a voice. I aim to give them this with my photos.
Three important factors for success
I believe the key to being successful, whether in photography or in life, is to do what you love. Make your passion your profession and you will never feel like it is work. In everything I do, three aspects play an important role: passion, patience and perseverance.
PASSION: The love and passion you put into your photography will also be felt by the viewer of your images.
PATIENCE: Wildlife photography can be frustrating. You may spend many hours, even days or weeks, at the mercy of the most difficult weather conditions without being able to get the shots you had hoped for. Patience is therefore hugely important.

PERSEVERANCE: Never give up! In the end you will succeed... and it will be worth it!
Into the wild
Natur og dyreliv
•

12 jun. 2023
•

Roie Galitz
Capturing the essence of Kenya with Roie Galitz and the Z 9
Natur og dyreliv
•

17 jan. 2023
•

Konsta Punkka
Looking wildlife in the eye with the Nikon Z 7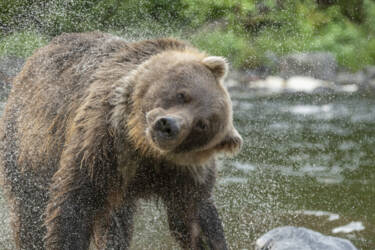 Unbelieveably close to the action