Crafting fine art portraiture with the Nikon Z 7II
Delphine Diallo
•

Mennesker og begivenheder
•

15 jun. 2023
•

5 min. læsning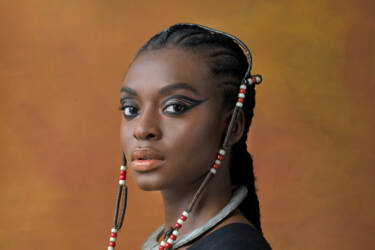 Combining activism with artistry, French and Senegalese photographer Delphine Diallo discusses why fine art portraiture is so much more than shooting images and how the Nikon Z 7II suits her style
Telling a story with every shot takes skill, deep understanding and vision. The purpose of fine art photography is to express an idea, a message or a feeling. My work reflects my own life experiences, the stories of my subjects and my deep emotions about the world we live in.
I see art photography as a vessel to express consciousness and a tool to help promote a more inclusive society. Photography is my space for acceptance, integrity, wisdom, beauty, strength, faith, mystery and universal matter.
I grew up with my mother who was an artist specialising in oil painting. At a young age I discovered I was very good at drawing faces and developed an interest in human anatomy and how this links to art history. After my mother gifted me my first camera, a Nikon EM, I began to approach my photography as I did my artwork — with detail and precision.
Fine art portrait photography involves an artist (the photographer), their tool (which, in my case, is the Nikon Z 7II) a subject and a statement. The artist's vision is always portrayed in the shot.
Find a strong subject
This is the key to creating a powerful image. I always look for someone with a great story to tell and a person I feel a connection with. I spend time listening to them talking about their lives and try to build a relationship before I start shooting. This is paramount to capturing an authentic image — the more you know about them, the more important the photograph becomes to you. I tend to shoot black women — growing up as a black female, I never saw them interpreted the way I believed they should be through photography. I like to focus on creating an iconic vision of a black woman — this is my goal.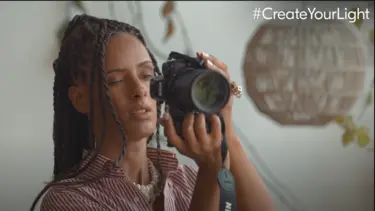 Maximise light, sets and the Nikon Z 7II with Delphine
Tell stories through photography
Understand your vision and the story you want to tell
The beauty of photography is that some stories can be told without any words, but it's important you understand the message you are trying to convey. Make sure you're clear on this before you begin shooting because without a story, you cannot inspire anybody with your work. When I photograph my subjects, they become the protagonist. I witness their light and inner beauty when I talk to them, and their stories translate through my lens and into the image.
Search for the light
Study the natural light and learn to catch the best moments of the day. I like to shoot during the early morning light, or late afternoon/sunset as these are the 'warmest' moments and help to create a softer photograph, which is key for fine art photography. I tend to shoot at 400 ISO with an aperture of f/4 in these conditions, giving the image a sharp and crisp look. Artificial lights don't create the same affect, so try and shoot in a space with big windows, or outside when the weather allows for it.
Choose the right kit
Selecting the right equipment is essential with fine art portraiture. You are the artist, and the camera and lenses are your tools. The Z 7II is my current camera of choice as it helps me capture incredibly beautiful images. The eye recognition feature gives me the freedom to be more present when shooting my subject, as the camera focuses for me. The lightweight body has an impressive dynamic range, with an ISO setting of 64–25600. Shooting on it is effortless and I feel confident in every shot I take. I pair this with the NIKKOR Z 85mm f/1.8S lens and the results are outstanding. The lens helps to create the sharpness and depth of the image, making it look even more like a painting.
Be patient
It is rare that you will capture the perfect shot straight away, so take your time and try not to get frustrated. Equally, be patient with your subjects and ensure they trust you. Communicate with them so they understand your vision; this will help both of you achieve what you want and make the experience enjoyable.
Fine art portraiture tips from Nikon School
The Nikon Z 7II has a range of shooting modes and the autofocus settings allows full creative control of your images, making achieving great portraits very easy. When shooting portraits, we'd recommend either using the Eye Detection AF function, which locks on to people's eyes in both stills and video shooting, or alternatively the Single Point AF function, which allows you to manually choose a focus point for the camera if you cannot clearly see the subject's face.
To maximise the impact of the image, use either the Aperture priority (A) or Manual mode (M). In Aperture priority mode you can set the aperture of the image, and the camera automatically sets the shutter speed based on the available light and ISO settings. This allows you to achieve precise control over the levels of background blur in the image. This works especially well with a fast lens such as the NIKKOR Z 85mm f/1.8 S when the aperture is set to f/1.8.
Manual mode (M) gives you as the photographer even more creative input, by enabling you to set both the aperture and the shutter speed. You have the control to choose a high shutter speed to freeze your subject, or intentionally set a slower shutter speed to have controlled motion in the image.
When using either (A) or (M) mode, if you are photographing handheld, switching on Auto ISO will make it easy to get great exposure every time. You can also use exposure compensation controls to fine-tune your exposure if needed.
To help achieve the perfect portrait shots while on location, especially when the lighting can be unpredictable, the Nikon Z 7II supports the Nikon Advanced Wireless Lighting system (AWL) for controlling off camera flash. Using the WR-11 wireless flash control unit and activating the AWL controls means you can use either one or multiple SB-5000 speedlights off camera.
Ambient and natural light can give you good portraits, but by adding controlled light using off camera flash from a SB-5000 Speedlight you can achieve even greater depth in your portraits. Using creative lighting gels and the Auto FP in the Nikon Z 7II, with the SB-5000 speedlight, you are able to create any type of lighting effect at any time day.
Experience the Nikon Z 7II