Capturing raw sporting emotion with the Nikon Z 9
Corinne Dubreuil
•

Sport og action
•

17 jun. 2023
•

6 min. læsning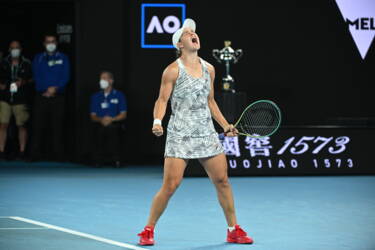 One of the world's leading tennis photographers, Corinne Dubreuil has been photographing the sport she loves for more than three decades. She explains how she gets the best out of Nadal, Federer… and the new Nikon Z 9
"I place more importance on showing the emotion of the athletes, than the action itself," says Corinne Dubreuil. One of the world's premier tennis photographers, over the course of the last 30 years Dubreuil has photographed every major tennis star and hundreds of tournaments, typically travelling away from her homes in Paris and Biarritz for up to 25 weeks a year.
"You get to know the details that are specific to each player, their habits," she says. "Knowing the different players makes it possible to anticipate what may happen both in terms of emotions and action. I like to convey the specifics of each person's game. The better you know your subject, the better you will photograph it. I have found that to be true for individual players and of the sport itself. If you can anticipate the action, you can get the shot you want."
At the 2022 Australian Open in Melbourne, Corinne used her new Nikon Z 9 to capture new images of players she know so well, including, naturally, the Men's Singles winner, Rafael Nadal. "He is my favourite subject, for sure," says Corinne. "Because he is full of emotion and attitude. It's been a pleasure to photograph him for nearly 20 years. Shooting Nadal in action is always powerful. I first photographed him in early 2000, but it was a match in 2004 in Key Biscayne, where he first played and beat Roger Federer, that really made an impression on me," she says, of the NASDAQ-100 Open. "Since then, I haven't missed photographing any of his 21 Grand Slam wins."
Shooting the Australian Open with the Nikon Z 9 was a revelation for Corinne. "The Nikon Z 9 gives me new possibilities, with its full frame. I can go from FX to DX easily and the quality is still amazing, which is remarkable," she says. "And with my AF-S NIKKOR 200-400MM F4G ED VR II the depth is great. The fact the Nikon Z 9 makes no sound is another great feature. Players do sometimes complain about the noise of being photographed, but now, with this camera, that will never be an issue again."
With its deep blue courts in the main arenas, the Australian Open also has a colour palette and atmosphere that make different demands on Corinne as a photographer than, say, the grass courts and changeable English skies of Wimbledon. "I love to play with the light and colours, and in Melbourne the 'playground' for me and my camera is huge," she says. "What's amazing about the Nikon Z 9 is what you see is what you get, so you know exactly what you are doing. You can trust the camera 100%. It's actually hard now to get an unfocused picture! That means I can concentrate on the composition of the image. And I can also achieve whatever I want to do without even leaving the viewfinder, because the editing function is on there."
A tennis fan from an early age, Corinne was 11 where she announced to her parents that she planned to become a tennis photographer. After messing around with her uncle's camera, she was fascinated by the idea of changing lenses to achieve different effects. By the age of 16, she was trying to establish herself, taking photos at tournaments. A chance encounter with the American player Chris Evert, a former World Number 1, who encouraged Corinne's efforts, helped to take things to the next level for her.
"I met Chris Evert at Roland-Garros in 1987, and for the next few years she gave me tickets to attend tennis tournaments all around the world, including Wimbledon in the UK and tournaments in New York," says Corinne. "At first, I was selling my photos to fans, for ten francs a picture. I missed a lot of school," she laughs. She had one of her photos published in a magazine that same year, and by 1990 had turned pro. After more than a decade enjoying a "dream job" as a photographer for France's Tennis magazine, in 2003 Corinne went freelance.
She says she has now photographed "pretty much every major player" and doesn't have anyone on her wish list. As well as action shots from the courts of Grand Slams, her work includes studio portraiture for editorial with players including Roger Federer. "When you are in a studio with a player like Federer, unlike on the court, the most important part in the result is the interaction between you and your subject. You have to succeed in putting him at ease so that he forgets that he is posing. My job in the studio is to let him forget that the camera is there."
Despite the male-dominated nature of sports photography, Corinne says she hasn't experienced direct sexism and has felt well supported by her industry colleagues. "There is spirit of respect and cooperation between those of us who photograph tennis professionally," she explains. "Having been in this business for 30 years, I now see more female sports photographers than I ever did before, which is great. I'm not sure my gender makes a difference most of the time. The emphasis is mainly on your photography, rather than on you as an individual."
When Corinne does take a break from tennis photography and the frantic pace of live sport, it's usually to capture images of the beaches of Biarritz, which she posts on a separate section of her website and social media feeds and keeps distinct from her tennis photography. It's landscape (or beachscape) photography that requires patience and happens at a much slower pace than catching the details of frenetic live sport and getting images to media outlets as soon as possible.
"When I am there, I am just concentrating on the light and the elements around the sea," she says of Biarritz. "Sometimes I stay in the same place for hours at a time to wait for the perfect light and perfect shot."
Corinne is convinced that using the Nikon Z 9 is going to come in useful for her photography on those sleepy beach days, as well as court-side. "The Nikon Z 9 will give me more possibilities for getting great pictures of surfers in Biarritz, but also just opportunities to capture even more fine details of the waves, more details of the water."
Looking ahead, Corinne says she'd also relish the chance to spend more time experimenting with the Nikon Z 9 in indoor settings. "I'm looking forward to using the Z 9 in the studio and also backstage, when you really need to be a ghost. The Nikon Z 9 will be my best friend in that situation," she says. "And I plan to move 100% to an era of Z cameras now, with my Z 9 and my Z 6."
What she won't be moving away from any time soon is photographing the sport that has captivated her all her life. "As a photographer, I like to play with all the different aspects of tennis that I love: the different venues, the light, the players' attitudes," says Corinne. "With my photography, I try to show all the emotions that tennis can make me feel."
The Z 9 unwrapped
Natur og dyreliv
•

12 jun. 2023
•

Roie Galitz
Capturing the essence of Kenya with Roie Galitz and the Z 9
Videooptagelse
•

11 jun. 2023
•

Christian Ammann
Incorporating video in fashion shoots with the Nikon Z 9