Christian Ammann on the NIKKOR Z 135mm f/1.8 S Plena lens' 'wow factor'
Christian Ammann
•

Tried and Tested
•

17 nov. 2023
•

5 min. læsning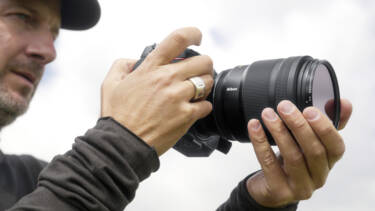 Nikon's newest legend and bokeh monster, the NIKKOR Z 135mm f/1.8 S Plena, is put through its paces by Nikon Ambassador and fashion photographer Christian Ammann
Fashion and beauty photographer, film director and Nikon Ambassador Christian Ammann was one of the first people in the world to try out the NIKKOR Z 135mm f/1.8 S Plena lens. Nikon magazine sat down with Christian after the shoot to discuss the new lens, his first impressions and how it will fit into his work.
Nikon magazine: Hi Christian. What were your expectations for Plena before you used it?
Christian Ammann: I expected it was going to be great quality and a good lens, but I was seriously wowed. I think the beautiful gradient between the very sharp focal plane and the rest of the image impressed me most. The autofocus and the camera just functioned seamlessly – it's a very simple lens to use. You can shoot something very fast and it's crisp, sharp and there's this focal plane that is so strong because it's embedded in all this beautiful depth of field and gradient. That really wowed me.
What camera did you do the first shoot with?
I used a Nikon Z 8. We shot mainly outdoors, but some indoors as well, and a mix of stills and video.
What do you think Plena will do for you in coming shoots?
I'll be shooting a lot with it! It's just something that makes life much easier. You get this great depth of field effect, and you can be closer to subjects as well. Usually, I shoot with much longer lenses and open aperture, but with Plena I feel almost like an Impressionist painter — you've got this beautiful, creamy softness, but it's very detailed as well. The sharpness is unbelievable – it's just crazy.
Did you ever use the (legendary) f-mount NIKKOR AF 135mm f/2D DC lens? What is the main difference between the two?
It's that central plane that goes out to the edges. I don't think you've ever had that in any lens before and that makes it so different. The three-dimensional effect that encapsulates the subject makes it stand out so much more. Previously, we always had that slight loss of quality towards the edges. Not with Plena.
Did you mostly shoot completely wide open?
We did some shots where it was more closed, and you do get a beautiful effect when you start closing it a bit as well. We shot some architecture images where I used f/11 and that was beautiful – very crisp, sharp and detailed. For me, however, the main asset of Plena is when you shoot with it completely open.
Do you think it gave you more creative freedom?
Definitely. It is so easy, fast and works so well. In the past, shooting sports fashion, for example, I might have stopped myself from taking a shot. I'd say to myself, "I'm not going to shoot this wide open, because it'll be less detailed or less sharp." This lens doesn't stop you from doing anything. As part of the test shoot, we went to look for everyday situations. We went to a bicycle park in Copenhagen and it didn't look nice at all. Introduce the Plena and suddenly you have this amazing canvas to do something creative. If you have a good idea in your head, it will work with something quite mundane and simple and give you something amazing.
You mentioned the speed of the AF with Plena. That's crucial for most if they're shooting at f/1.8, isn't it?
Yes, it's completely crazy. I was shooting people running towards the camera and it's dead-on. At f/1.8 the incredible sharpness right to the edges makes it seem like you're shooting at f/4. Previously, especially with vignetting on lenses, you would have to crop into the shot to get an image that contained sharpness from edge to edge.
Do you use Fn buttons on lenses or do you leave them alone?
I leave them alone! It's a personal thing – some people love to use them and some not so much. I think I should use them more. I'm old school [laughs] but with the Z 8 and Z 9, I've embraced a lot more of the camera features. I have a great assistant who will sometimes say "Did you not think of ever doing this?" and presses a button. And I think, "Oh, yeah, that's actually a great idea!"
What would you suggest people try with Plena when they get their hands on it?
Go out in nature and move forwards and backwards with the focal plane. We shot at this lily pond, and I moved just a little bit, and it turned into this very beautiful painting-like structure. Or there was one with a flower field that we went to, and everything seemed to radiate around the subject. At night it's amazing, too, in the city where there are a lot of lights. I'd recommend going somewhere where there's a lot of reflective metallic surfaces, or water. At night is really interesting because you get that amazing bokeh, which is just perfectly round to the edges. And if you have depth in there, plus lots of traffic lights and other cars, you get an amazing look and feel. Another tip would be to go somewhere where there's a nicely lit-up shopfront at night and put the subject there and work with the great light surrounding you.
What about using Plena for video?
Video was really interesting. At night with moving lights, you can see round light bokeh to the edges. We did another in the flower field with these amazing colour gradients and then you get sparkle from the water and, again, it's such a simple lens to use. And combined with the AF capability, it makes it a very good video option.
Have you got shoots lined up with Plena?
Yes, definitely. I'll start using it for a lot of my clients because I usually isolate the subject in my work. I have a few editorial shoots coming up that will absolutely be shot with Plena, and I can't wait to get started.
Discover the new NIKKOR Z 135mm f/1.8 S Plena
Deep Focus
•

28 sep. 2023
•

Nikon Team
Inside the numbers on a new legend in lenses: the NIKKOR Z 135mm f/1.8 S Plena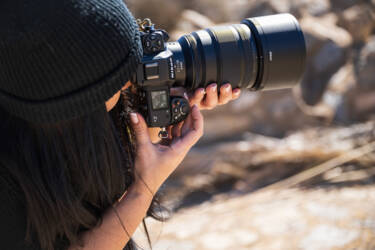 Unlock greater creativity