Behind the scenes shooting with Pep Bonet and the Z 8
Pep Bonet
•

Teknologi og viden
•

11 maj 2023
•

5 min. læsning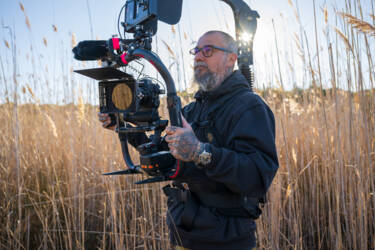 Recently returned from Spain shooting Nikon's The Movement series, Pep Bonet is the go-to man for shooting behind the scenes — but how does he go about it?
Shooting behind the scenes – or BTS – is more important than ever in the entertainment industry. Creative endeavours like TV and film want to not just have a record of what happened but to create standalone video assets that are companion pieces to the main shoot. As an audience, we want to see how things are made, to peek behind the velvet curtain and watch as the magic is created as if we were on set.
To find out how to best approach a BTS shoot we spoke to Nikon Ambassador Pep Bonet, whose recent work has included creating behind the scenes documentaries for The Climb, an HBO series with Jason Momoa, and the Game of Thrones prequel House of the Dragon. Pep also shot The Movement for Nikon, a limited series about nine creatives from wildly different backgrounds using the new Nikon Z 8.
Observe the candid
"The first thing I would say," says Pep, "is to believe in what you do. Don't censor yourself. Get out of your comfort zone and be clear about what you want to achieve. Be open, talk to people, tell them what you want to do and be open-minded. After that, be unnoticed. You are an observer."
Pep knows that role well, having spent several years shooting behind the scenes on the road with rock legends Motörhead.
"I learned the hard way with Motörhead! They were hard people, difficult to move around so the more invisible you are the better."
As for what happens on the shoot, Pep says it's best to start with no pre-conceived ideas about what the output will be.
"I don't like planning," he says. "I believe in learning as you go and failing as you go. That's the magic of life. When I was shooting documentaries about really tough issues like conflict I never did lots of research. I might have Googled the weather! For the rest I wanted to go without any ideas or prejudices. I'm an observer. It's more about the magic and the surprise. What am I going to find out? What will make me tick? That's what behind the scenes is all about."
The Movement | A behind the scenes film by Pep Bonet
Hit the play button to discover more
Two types of filmmaking
Pep has been Director of Photography on his own films as well as shooting behind the scenes — but what's the main difference?
"There's a big difference between BTS and the main shoot. If you're a DOP then everything has to be planned, there's a lot of teamwork involved, everything is organised. There are a lot of people to consider, from focus pullers, actors, sound, camera operators and things have to happen when they are supposed to happen. Behind the scenes is about going with life as it happens, so the only thing you can really prepare is your gear."
Gear is obviously all-important but Pep's main tip? Don't have too much.
"Less is more if you are shooting BTS. Don't have too many cameras, too many lenses, too many gadgets. You're likely on your own and you need to be moving around a lot, so travel light. I did The Movement shoot with the new Nikon Z 8 and because it's pretty light for a camera with such amazing technology packed into it, it means I can work for longer in more comfort.
"I also love to work handheld, and the stabilisation on the Nikon Z 8 is really great and the autofocus works so well, which helps when you're moving around a lot. So yes, most of the time [I shoot] either handheld or with a gimbal, only using a tripod for interviews. If you can master handheld shooting you can probably do anything else."
Pep Bonet's documentary Into The Shadows is currently showing on Netflix across Europe. You can read his guide to videography here.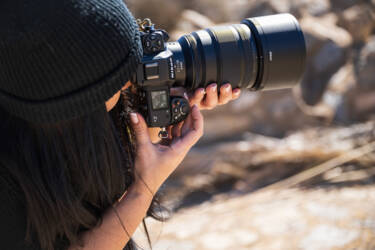 Unlock greater creativity