Beauty meets power with new Nikon Z f
Nikon Team
•

Anatomy of a camera
•

21 sep. 2023
•

5 min. læsning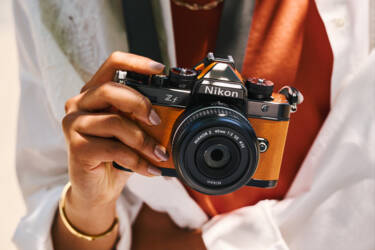 Combining timeless, iconic design with hi-tech, full frame performance that rivals professional cameras, the Nikon Z f is as beautiful as the images it will inspire you to create
Iconic, classic design
The Nikon Z f harks back to the Nikon FM2 – an icon of camera design. The FM2 35mm film camera, released in 1982, was loved by pros and enthusiasts alike for its rugged build quality, superb functionality and affordable price. The new Nikon Z f pays homage to the design of this classic camera and combines it with pro-level, full frame technology.
Full frame tech
The Nikon Z f is not just a beautiful object in its own right: it builds on the performance of the Nikon Z 6II and takes it to the next level. Featuring innovations from the Nikon Z 8 and Z 9 – and new tech too – the Nikon Z f is the most powerful and accessible camera for lovers of classic Nikon design, with the Nikon Expeed 7 processor, a 24.5MP sensor and 64000 ISO.
Amazing AF
The Nikon Z f features expanded auto-area autofocus, tracking small objects from edge to edge, with 299 focus points on 89 x 96% area coverage (compared to 81 points on 80 x 80% on the Nikon Z 6II). And in custom wide-area AF, the Nikon Z f features an amazing 77 patterns in stills mode and 66 in video (compared to 20 in photo and 12 in video on the Nikon Z 9).
Backlit AF
Using separate pixels on the sensor for AF means they can overexpose for focusing in darkness without impacting the exposure of the image captured. And, in low light situations AF detection is down to -10 EV in photo mode.
World's first Focus Point VR
In a world first, Nikon has developed a new vibration reduction system for the Z f that concentrates VR effort on the focus point of the image. Image stabilisation systems normally compensate all across the frame, resulting in the most effective blur suppression being around the centre and slightly less compensation at the edge of the frame. The new system means a sharper subject no matter where it is in the frame.*
*Works only with non-VR NIKKOR Z lenses and only in photo mode.
Subject detection in MF!
With the Nikon Z f, subject detection is now available in manual focus, especially useful for those who like to use older lenses (with electronic contacts). Subject detection automatically moves the focus area to the eye of a subject and immediately zooms into focus.
Brass dial controls
The Nikon Z f features physical dial controls for exposure compensation, ISO and shutter speed, while the shutter release button uses a leaf switch for a classic 'feel'. Control buttons are made from brass, which will age beautifully over time and used to create a patina personal to your touch.
Dedicated monochrome switch
Shoot in black and white at the flick of a switch on the Nikon Z f, instead of having to go through menus. And with three different monochrome (monochrome, flat monochrome and deep tone monochrome) presets to choose from you can get perfect black and white creativity straight out of the camera.
Pixel shift shooting
Achieve incredible resolution images with pixel shift, which uses Nikon's in-body VR to make slight movements to the sensor while shooting multiple images. The images are then merged in editing software to achieve up to 4x normal resolution.
Keep stable and carry on
The Nikon Z f won't let you down when shooting handheld, even in challenging and low light conditions. In-camera VR in the Nikon Z f will give you up to 8 stops of compensation – even more than the Nikon Z 9!
Don't be afraid of the dark
As well as fantastic VR, the Nikon Z f delivers up to 64000 ISO for even the most trying of lighting conditions. Plus, Starlight View provides you with a bright display in dark environments.
Fantastic portrait control
Get precise control with built-in features that make the Nikon Z f the perfect portrait shooter. Rich Tone Portrait is a new feature that captures skin tones and details while suppressing white clipping. Fine tune hue and brightness with Portrait Impression Balance and soften skin while keeping eyes and hair sharp with Skin Softening.
Find your angle
With a fully vari-angle monitor screen you'll always be able to see what you're shooting.
Never miss a moment
With high-speed frame capture, the Nikon Z f can shoot up to 30fps in JPEG and 14fps in RAW. And with Nikon's Pre-Release Capture built in, you can record up to 1 second before the shutter release is fully pressed.
Advanced Auto
Using Deep Learning technology the auto mode on the Nikon Z f precisely calculates the necessary exposure parameters in a variety of situations, including moving subjects, night portraits, group portraits and more.
Ready for anything
The Nikon Z f is not just a beautiful object – it's a rugged, durable and ultra-reliable camera, made, just like its predecessors, to last a very long time. Constructed from magnesium alloy, with weather sealing dust and drip resistance similar to the Nikon Z 8 and sensor cleaning and protection coatings equivalent to the Z 9, it's built for almost any scenario. And with a guaranteed operating environment temperature down to 0°C, the Z f can be your constant companion wherever you go.
Available in seven body colours
As well as classic all black, the Nikon Z f is also available in six other body colours – Indigo Blue, Sunset Orange, Sepia Brown, Moss Green, Bordeaux Red and Stone Grey. So, whatever your personal style, there's a Z f for you.
Touch control
For the first time on Nikon Z cameras, the monitor has nine customisable areas for touch control. This means you can simply tap the mapped area of the screen to activate functions such as moving the focus point, switching between a subject's eyes, the framing grid, zoom on/off, virtual horizon and more. This adds flexibility to select handy functions while your eye is on the viewfinder.
Discover the new Nikon Z f